Knitting is a fantastic hobby if you know how to knit with different patterns. But if you are a beginner and want to learn knitting, the different types and knitting patterns can confuse you. You will have to start from the basic pattern, and once you master the basic one, you can move to advanced knitting styles. In this review, I have compiled basic knitting styles along with different patterns and purl combinations. This review will help you learn the basic stitches in knitting and types of knitting stitch.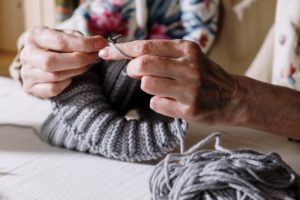 Knitting Stitches For Beginners
Knit Stitch / Garter Stitch
If you are a new knitter, you must know the basic knitting stitches. The base of knitting is a knit stitch. This is known as K1, and you will use it as a base to form advanced knitting stitches. With this knot stitch as a base, you can form purl stitch, garter strings, rib, and moss stitches. In the basic knit stitch, each stitch will give you a shape of the letter "V." To form a knit stitch, you will need yarn, knitting needles, a big-eyed yarn needle, and scissors. You can choose any color depending upon your choice.
The knitting needles must be of size 8 and 14 inches in length. While you form a first knit, you will go through two stages casting on and binding off. Casting on stage means your first stage from the yarm. When you make a row of stitches, this is the primary stage. After that, you will need a yarn needle to secure the knit, which is called bidding off stage. With this knitting stitch, you can make garter strings to form a knit scarf, boots, and clothes for babies. The Brother XM2701 sewing machine is a great option for knit fabrics.
Purl Stitch
Once you have learned the basic stitch, it's time to explore more and start purl knitting. In purl stitch, you will do the opposite of a knit stitch. You have to place the yarn in the back of a big-eyed yarn needle and then stitch a knit-in this stitch. Through both knit and purl, you can make tremendous combinations. These combinations include stocking stitch, moss stitch, and rib stitch.
Stocking Stitch
This basic knitting stitch is also known as stockinette stitch. In this stitch, you will have to knit the first row with a wider "V" shape stitch, and on the second row, you will have to do a purl stitch. In this type of knitting, you do circular knitting in every round. There are two sides to the stocking stitch. The right side of the stitch is smooth, and we call it a stockinette knit. In contrast, the wrong side is a bit bumpy, known as a reverse stockinette or purl. We recommend Bernette funlock 44 serger which does a great job.
This stitch is a combination of knit and a purl stitch which usually curls on the sides. This curling is due to the space and size of both stitches. To avoid excessive curling, you can introduce the border at the edges. The borders will enhance the overall look of the fabric and will keep your fabric from curling. You can make sweaters, rugs, mug holders, and caps with stocking knitting.
Ribbing
Now it's time to learn the alternate pattern of knitting and purling known as ribbing. In this knitting pattern, you will stitch the rows of knit and purls. While compiling the knitting and purling rows, you will get the alternate columns on the fabric. Ribbing is ideal for the edges, and you can also stitch the whole fabric with this technique.
If I discuss ribbing in detail, there are many forms of ribbing that include 1 x 1, 2 x 2, and so on. The number indicates the knit and purl stitch. For example, in 1 x 1 form, 1 is for knitting, and 1 is for purl. Ribbing can be in any form, depending on the thing you want to make. The other forms can be in 3 x 1, 3 x 4, 4 x 4, etc.
Seed Stitch
If you have mastered ribbing, you can learn seed stitch quickly. It is somewhat similar to ribbing. In this type of knitting, you will have to alternate the lining of knits and purls on a row. It is the basic knitting in which the stitch is visible at both sides, just like a garter stitch. It is ideal for making cuffs, sweater borders, scarves, and caps.
Moss Stitch
In the category of basic knitting stitches, the next is moss stitch. People usually confuse moss stitch with seed stitch. Let me tell you the significant difference between the two. The seed stitch is small and needs one row to complete a pattern. In contrast, the moss stitch is larger in pattern, and you will need ribbing of two rows and then giving one stitch to two rows and so on. In this way, you will complete a full pattern and get a fantastic knitting fabric. The Singer heavy duty 4423 does a great job in handling this combination.
Frequently Asked Questions (FAQs)
What is the most basic stitch in knitting?
The most basic stitch in knitting is garters stitch. It is the base of creating knitting patterns. Once you have learned this basic form of stitch, you will knit more advanced patterns quickly. In the garters stitch, you knit or purl each row to get desired results. You make loops on the top of each row to get horizontal ridges. The garters stitch is flat, smooth, and does not curl at the edges.
What is the difference between seed and moss stitch?
The seed stitch is smaller in size and needs only one row for a pattern. In contrast, moss stitch is larger in pattern, and you will have to rib two rows in a pattern and move on with one stitch to the two rows in line. In this way, you will get your desired pattern. It does not curl at the edges and is ideal for making cuffs, collar ribs, button bonds, etc.
What are the different knit-purl combinations?
Knit and purl combinations help you make a great pattern. Once you know the basic knitting pattern, you can quickly learn the purl stitch. There are combinations of knit and purl patterns that include a stocking stitch and a rib stitch. The combination can be 1 x 1, 2 x 2, 3 x1, and 3 x 4, depending upon the pattern you want. In a 1×1 combination 1 is for knitting, and 1 is for purl. In the same way, in a 2 x 2 combination, 2 is for knitting and 2 is for purl, and so on.
Conclusion
New knitters can experience overwhelming techniques while learning for the first time. Knitting is a fun experience if you know the basic concept of a stitch. In this review, I have discussed a few basics of knitting stitches and different knit and purl combinations. Once you know the basic knit stitch, you will learn purl stitch quickly and, of course, their combination to stitch unique scarfs, sweaters, and much more.