Sew Ways was created by a team of Sewing Enthusiasts that includes a Professional Seamstress, a Quilter, and a seasoned publisher. All content on our website has been written by sewing professionals so you can be sure you are getting highly relevant and problem-solving solutions.
Our goal is to help beginner through advanced seamstresses and tailors stay up-to-date on the best information about different sewing tools, sewing machines, and sewing accessories and to learn from our easy-to-understand sewing guides.
For this project, we wanted to try to put together the content related to different sewing problems along with sewing guides that we could never find online.
Every Content page on the website goes through 4 different stages which are: 
Product Culling:

In this step, we find sewing products which meet a particular need available in the market and based on personal experience in a professional or home based environment.

Verification:

We make sure to comprehensively evaluate every product through the manufacturer's claims in the real-life DIY and professional projects to see whether it will help the readers of this blog make an informed decision. 

Drafting:

After the team of professionals have completed the thorough examination of the product, a draft report gets created for the approval of the editorial team at Sew Ways and decides what type of content genre is required to review a certain product. Different content genres can be long, tutorials based, comparative and distinctive narration to make sure the content provided is readable in a friendly, easy-to-understand manner.

Publish:

The last step is to publish the content and share it on all of our social media channels along with a push notification to the subscribers of Sew Ways via our

Google

&

Windows-based

apps.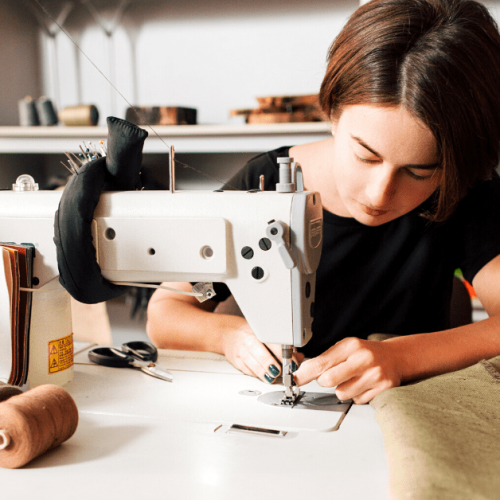 Emily Rogers
Founder & Marketing Head at Sew Ways
What to do now?
If you are here and reading this, It means you are one of a Sewing Enthusiast who is looking to improve your sewing skills and select the best products according to your needs for your DIY or Professional endeavors. 
The good news is, we have prepared everything to help you achieve that. From here you can either:
Read our Sewing Machine Reviews to help you understand which machine works for what type of projects and to make an informed buying decision.
Read our Sewing Guides to help you understand basic to advanced sewing concepts as well as learning different sewing tips & techniques to improve your sewing game to the next level!
We hope you enjoy the content we worked so hard to put together, and if you have any suggestions to make this site better, we'd love to hear them!
The Sew Ways Team