Getting into sewing is exciting but getting your first sewing machine can be quite a task. You want something that is not too complex but still does all the basic functions you expect a sewing machine to do. Moreover, you probably don want to spend much on your first machine. So, you are looking at something ranging between $100 and $200. One worthy contender for this category is Brother GX37.
Here, we will have a thorough look at GX37 and what are its strengths and weaknesses. Basically, where it leads and where it lags. So, let's get started.
Specifications of Brother Sewing Machine Gx37
| | |
| --- | --- |
| Sewing Machine Type | Automatic |
| Dimensions | 12.48 x 16.26 x 7.01 inches |
| Weight | 10.14 lbs |
| Voltage | 110v |
| Hook movement | Vertical |
| Stitching Speed | 850 stitches per minute |
| Foot Pedal | Yes |
| Speed Control | No |
| Tension Setter | Yes |
| Number of needle positions | 37 |
| Maximum Stitch length | 5 mm |
| Maximum Stitch width | 7 mm |
A Run-Through of Stand-Out Features – Brother Gx37 Review
Brother produces a variety of eminent sewing machines. Some of them are great for professionals and others are good for hobbyists. GX37 comes up as a good entry-level sewing machine. A lot of this has to do with its stand-out Features. Let's talk about them.
37 Stitch Styles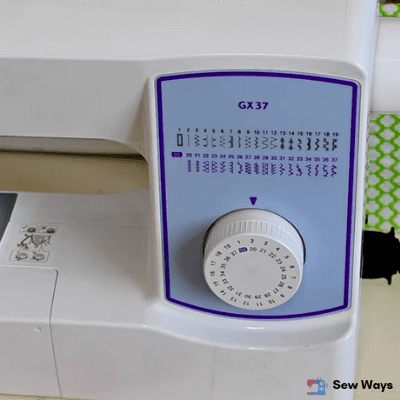 Brother Gx37 comes with 37 stitch styles which for me is just at the sweet spot. I say this because some of the high-end machines have tons of stitch patterns. Honestly, that is excessive and certainly overwhelming for new users. On the other hand, some machines come with only a few stitch styles and that turns boring pretty quickly.
Nothing against these machines, but it is better to have some patterns and then grow on that, especially for new sewists.
For quick access, these 37 stitch types are inscribed on the sewing machine. Changing the stitch styles is as simple as turning the dial. It's a bit lower down from the machine's imprinted picture.
Free Arm
Free arm is an amazing feature in any sewing machine. With a free arm, you have the option to easily stitch circular designs such as sleeves, collars, hemline, and trouser legs.
Brother sewing machine Gx37 comes with a very ergonomic free arm which is ideal for stitching handcuffs and sleeves. Aside from that, if you need a sewing machine to make kid's clothes, this sewing machine can help you in that. Let me say, this machine is one of the most convenient machines to stitch kids' clothes.
Moreover, the free arm section allows you little accessories such as a bobbin and spools.
Manual Thread Cutter
One handy function in this machine is the manual thread cutters. There are two of them. One is for the bobbin thread and there is another on the upper left side. The manual thread cutters are effective and easy to use and you just have to feed the thread through the cutter.
Bobbin Winder
Bobbin winding technology makes Brother Gx37 extremely easy to wind your thread in the bobbin. So, I think this feature makes this machine a complete sewing machine. If it's absent, it will take so long to wind your thread in the bobbin by hand.
Feed Dog Points
Brother Gx37 offers 7 feed dog points. It gives you convenience and more control while sewing your dresses.
Tension Control Dial
Dial is the feature that helps alter the thread tension. Your sewing machine must offer proper adjustment of the thread. It should neither be too tight nor too loose. Otherwise, it can lead to puckered fabric and loopy stitches.
Luckily, this machine does come with a tension control dial and you can easily alter the upper thread position.
Twin Needle Option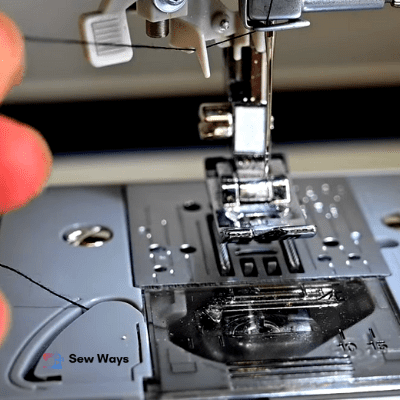 Brother Gx37 comes with a twin needle option that can attract any creative tailor. The twin needle option enables you to stitch with double thread and can easily create aesthetic designs.  However, in Brother Gx37, it is totally up to you if you want to use this option or not.
Reverse Sewing Lever
This feature allows easy sewing of the beginning and end of the seam. By pushing the lever, the sewing machine will sew in reverse or backward. This feature essentially keeps the seam from unraveling.
Top-Load Bobbin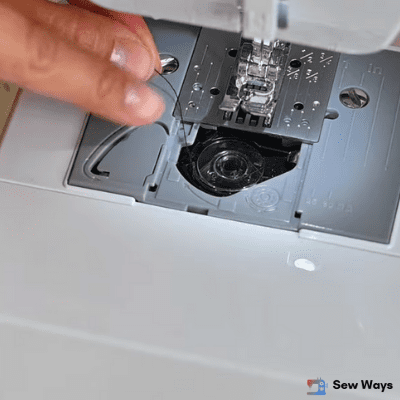 Today, a lot of setups come a useful feature. This feature allows you to slide open a panel and drop the bobbin in a clear cover. This in turn lets you see when the thread is running low.
Loading the bobbin in the Gx37 Brother sewing machine is quite simple. Because of the clear cover, you can easily judge the length of thread is left on the bobbin.
Pros of Brother Sewing Machine GX37
Now that you know all about its amazing features, let's jump to the pros of making the purchase.
Super Easy to Set Up
A new machine is usually hard to adjust and it is indeed time-consuming to make it function according to one's needs. But this shall not be the case with Brother GX37 as it has aced this feature of easy setup. It essentially is a one-piece machine, so there is no assembly involved.
Easy to Use
Machines frustrate us when they are not straightforward and are difficult to use. GX37 is quite easy to use and comes with convenient features that help sewers get hold of it quickly. Some of these features include a top-load bobbin, being lightweight and easy to thread.
Reverse Stitching
It's possible that the stitches tear up, but because of Brother Gx37 you can easily do reverse stitching and fix them up. With this option, you can make a layer of stitches. For this, you simply need to push the reverse stitch knob down.
LED Light
What if you have to sew a dark fabric with a dark thread on a dark night? It might irritate you. To solve this problem, Brother Gx37 comes with a LED light that helps in working on darker fabrics and gives a clear and more precise image of your stitching project.
Compact and Portable
Because of it being lightweight and compact, you can carry your passion along with you anywhere easily without engaging in a huge space.
Quick Support Services
If you have ever used any of the Brother's machines before and had to contend with an issue, you would agree that they have one of the best supper services. Their quick and efficient support services are all ready to help and provide their customers with a proper briefing.
They will go through with you all possible causes of the hurdles being caused with their product usage, along with its solutions. They also provide step-by-step guidance that is easy to interpret by people of all skill levels.
Incredibly Versatile
37 different stitches are enough to serve the purpose for most of the projects.
Automatic Needle Threader
Sometimes, focusing while threading the needle with hands can be a challenging task. Brother Gx37 offers an automatic needle threader which is a bonus for weak visioned people. You don't have to waste your time in maintaining your focus to thread the needle. You can easily thread the needle by pulling down the lever.
Good Speed
Brother Gx37 sewing machine can sew 850 stitches every minute. This speed may not be the fastest around but can certainly help fasten your stitching projects.
Great for Beginners
If you have got kids who are excited about starting sewing, Brother Gx37 comes up as a good option. Firstly, because it is lightweight and compact it is quite portable and easy to handle. The controls are easy to access. Plus, it has printed diagrams for winding the bobbin and threading the machine which is quite handy for anybody starting up.
Some Not-So-Good Features of Brother Gx37 Sewing Machine
Now let's shed some light on some drawbacks that might concern you.
Doesn't have a start and stop button
Thread tension can take a lot of time as the tension is quite difficult in setting, you have to test your setting with a sample piece of fabric.
The needles you get with the machine are not particularly efficient on heavy fabrics (canvas or denim). They are prone to breakage if you try them on these fabrics.
As the thread cutter is not automatic, you need to keep your scissors with you all the time.
Does not come with speed control switches and you will have to contend with a foot lever.
Frequently Asked Questions (FAQs) Related to Brother Gx37 Sewing Machine
What if the handwheel does not turn or is tight?
Follow the steps below in operating the handwheel
 1. Try to rotate the handwheel toward the back of the machine if it is locked up
2. Make sure that the thread is not tangled in case of which, re-thread the machine to free the handwheel
3. Turn off the power and unplug the machine.
Remove the bobbin case by taking the needle plate off, then check if the handwheel turns freely.
In case it does: re-install the bobbin case and needle plate by following the steps in the manual and skip step # 4.
If it is not effective, move to the next step.
Clear the hook area of any thread jam
Clean the hook area of any debris
Press the power button to turn on the machine
Rotate the handwheel towards you once again to see if it works
Does Brother Gx37 sewing machine come with a case?
The standard version of the machine does not come with a case. However, there are variants available that come with a hard case, but at a higher price.
Does Brother GX37 sewing machine have an LED light?
Yes, Brother GX37 does come with an LED light. Moreover, it is designed with the optimal position where you need the most light to complete your sewing activity with ease.
Can I increase or decrease the speed of this machine?
Unfortunately, no. Brother Gx37 doesn't have any speed controlling switches. However, you can control it by adjusting the pressure on the foot lever. And if you want to operate it faster, simple push the lever harder.
Does the Brother GX37 come with a DVD?
Yes, Gx37 does come with a DVD which different tutorials to help you understand its functionality.
Final Words
Weighing its pros and cons, we can safely that Brother GX37 is an efficient beginner-friendly sewing machine. It is compact, gets straight to work with no major assembly involved, extremely lightweight, yet durable with its metal frame and easy operation.
Its 37 stitch styles are enough to make it versatile without being too complex and its automatic threading and easy bobbin winding keep you going. That said, you have to be vigilant when choosing your thread tension, and it is not super efficient on thick fabrics.
However, at its price point you probably need to make room for a couple of minor shortcomings, but nothing too major to be a deal-breaker.