Quilting is an excellent and pleasing experience, especially if you sew it without the help of a sewing machine. You can sew layers of the fabric one by one with your hands. With the energy and time you invest while hand-quilting, you will be amazed by seeing the result. The quilt made by the hand gives you a cozy and soft look. It is a craft that is passed from generation to generation and is done with perfection.
If you are looking for quilting by hand without using a sewing machine, this article will help you guide from the primary level. I am writing this article because I used to be in the same situation when I was unaware of hand-quilting. Now, I have mastered all the skills, and I can quilt by hand in no time. After reading this article, you will be able to quilt by hand without the need for a sewing machine.
Learn How To Quilt By Hand 
Hand-Quilting
For quilting by hand, you will need to learn how to run a stitch. You will be stitching the three layers of a quilt together to make it secure. The stitch size of a quilt depends upon your comfort level, and the length of the stitches is more critical than the stitch consistency.
Materials You Need for Hand-Quilt
There are three basic materials you will need to sew a quilt without using a sewing machine. These materials include wooden-frame (optional), needles, thimble, and threads. To sew a quilt by hand, you will need quilting needles short in size but strong for stitching a quilt several times. These quilting needles come in different sizes, starting from sizes 7 and 8. You will need a thimble to wear on your hand to protect your fingers while stitching a quilt.
I use a rubber thimble that works great for me and keeps my finger from hurting. You will have to push the needle in a vertical direction for stitching a quilt so the rubber thimble can protect your fingers to a great extent. The choice of thread depends upon you. Choose a thread that goes with your fabric. In my experience, use cotton threads for cotton material and shiny threads for linen fabric. The color scheme you choose for stitching a quilt will complement the overall look of the quilt.
Step Wise Guide To Quilt By Hand
Here is a step-by-step guide to hand sew a quilt. While quilting, you can use your lap, embroidery hoop, or wooden frame. It depends upon you which one you would like to use. In my opinion, try quilting with all of these and decide which one you prefer for your project. I use a wooden frame because it fits my needs. It is essential to note that a hand-quilting starts at the center and works outwards to the corners.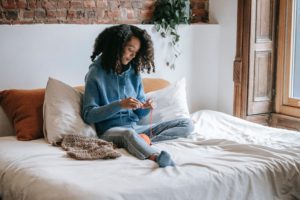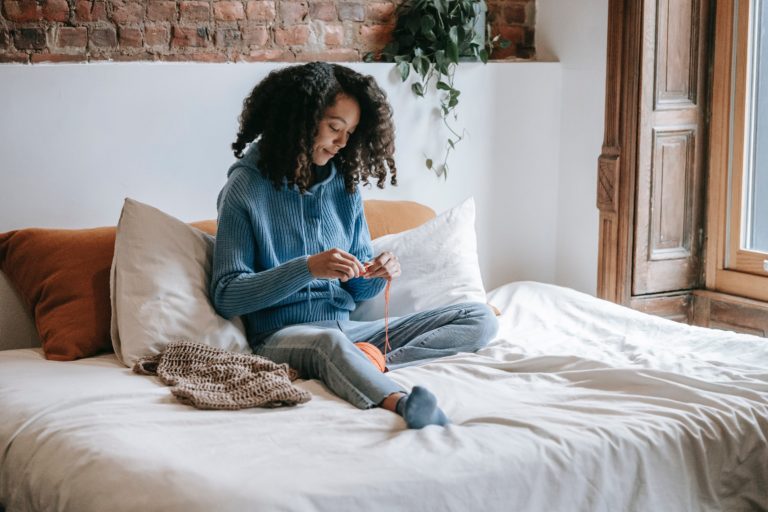 Step 1
Select a thread and appropriate needle size depending upon your fabric. Once you are done with the selection process, thread a needle of about 12 to 18 inches. Tie the knot at one end of the thread. Place the needle at the quilt top and push through the batting. You will see the needle up to the quilt surface. Pull the knot through the batting with a small backstitch. Now repeat the process in the opposite direction to start quilting by hand. Use a thimble to save your fingers from injury.
Step 2
For the quilting line, place your finger where your needle will poke through. Now in a vertical direction, push the needle through the fabric and batting till it touches your finger. Again be careful about your finger. Do not poke the needle with force because it can hurt you. Furthermore, push the needle in an upward direction and then backward in a vertical order in the fabric. In this way, you will complete one cycle of a stitch. Repeat the procedure for several stitches. The stitches on the quilt depend upon the fabric you are using.
Step 3 & 4
Pulling the needle through layers of the quilt will help you with the cozy and neat stitch. It would be better to keep the stitch small with little spacing because it will look more classy and attractive. Make one stitch at a time to avoid the difficulty of seam junction of stitches. Finish the stitch with a knot that you can make while running a needle into the batting. Make the knot and trim the extra thread.
Additional Tools For Beginners
The essential tools that you can use for quilting include a needle, thread, fabric, measuring tape, pins, a measuring ruler, scissors, safety pins, iron, chalk or markers, and glue. All these tools will help you get a perfect-looking quilt. While you are at the beginner's level, these tools are enough for you. When you move to the advanced level, you can use quilting utensils for patchwork quilting.
Frequently Asked Questions (FAQs)
How to start hand quilting?
Start hand quilting with three basic methods. Select a needle with the proper size and a thread that complements the fabric. Thread a needle not more than 18 inches because it will tangle while you stitch the fabric for quilting. Make a stitch in a vertical direction through the fabric and batting. Repeat the process for several stitches, and you are good to go.
What materials do you need for quilting?
For quilting, you need a 100% cotton material. The material should be almost 5 yards, including a top for quilting and backside material. You will need batting as well for quilting. Batting is a soft material that you will put inside the quilt. Furthermore, Quilting is a pleasurable activity yet expensive at the same time. It needs good investment and time.
What tools do you need to quilt by hand?
You will need three tools while hand quilting: a needle, thread, and a thimble. The additional tools include scissors, a wooden frame or an embroidery hoop, measuring tape, steam iron, quilting ruler, chalk or marker, and pins. These additional tools are optional, but they will provide you with a perfect and easy quilting experience.
Conclusion
It seems very difficult to sew a quilt by hand, but there is no rocket science. The beginners can do it with ease. If you are a beginner and want to quilt by hand, I am writing this article for you. This guide will help you learn all the basics of quilting without the use of a sewing machine. Once you are comfortable with the beginner's quilting, you can quickly move to the advanced level.