While you could use needle and thread or a sewing machine to fix your jeans, you don't need to be a master with a needle and thread or a sewing machine to patch fabric. You can patch fabric with fabric glue, also called fabric adhesive. Actually, fabric glue has a few advantages when it comes to a couple of repair jobs.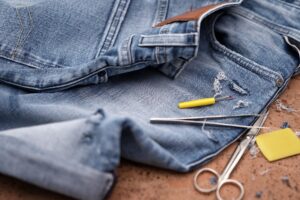 Fabric glue works even better when you need to fix a tear in the fabric. Even with the most impressive hand sewing skills, it's difficult to achieve a seamless finish.
Now, don't get confused with the term "fabric glue". It works on almost any material including plastic, glass, and even wood. It's mostly because the manufacturer expects that the majority of people will use it to add appliques and rhinestones to their clothes.
What makes it different from the run-of-the-mill superglue is how it behaves when it dries. Superglue tends to be stiff, while fabric glue is elastic and moves with the fabric.
Fabric glue can also be used for "sewing" seams and hemming, but today we'll talk about how to use it to patch damaged fabric. But first, let me answer a couple of common questions before we get to instructions.
What type of tears can you repair with fabric glue?
Fabric glue can fix most tears. If the tear is too big, the chances that the seam will be visible get bigger. Still, the bond should hold, even if you have to fix an entire pant leg lengthwise.
The only issue is holes. In that case, you will have to embrace the imperfection. You can apply a visible patch that can also be decorative.
What types of glue work best on fabrics?
There are a number of fabric glues available. We have produced an entire write up on exactly this subject. The important thing to remember is that the glue should be flexible when dry, so not super glue, and it should easily bond into the fabric when liquid, so not hot glue.
What type of patches can you use with fabric glue?
Any type of patch. Fabric glue can usually glue various materials, so whatever you choose as a patch will stick.
The only case I could make is for lace. But it's mostly cosmetic since I think that lace looks better when sewn by hand.
Do you have to wash the fabric before using fabric glue?
Only if it's heavily stained. Definitely, if there are food and grease stains. Those could have an impact on the bond.
With some fabrics, you should avoid washing and drying. If the fabric frays a lot, it's better to start fixing it without washing.
How to Patch Fabric with Fabric Glue – Step by Step
Remove the wrinkles
It's better to work with a wrinkle-free surface. That way you can make sure everything fits perfectly, just like puzzle pieces.
You can also spread some cling film to protect the working surface, but it's not vital with this technique.
Cut off some fabric
Depending on the fabric and the size of the tear, you could skip this step. Usually, that goes for non-woven fabrics and thicker knits like scuba.
For everything else, you will need to use a piece of fabric as backing. It could be some of the same fabric for a seamless finish. However, in most cases, it's better to use something lightweight like muslin or even chiffon.
Cut a square or rectangular piece that is at least a quarter-inch bigger than the tear. But don't make it too big. You're wasting fabric and it could make the damaged area more noticeable.
Apply the glue
If you're not using a backing cloth and applying glue directly to the tear, use a q-tip or another applicator to apply glue to the edges. Then press the fabric flat until the edges align. When the glue doesn't feel tacky anymore, apply some weight for about 30 minutes to an hour.
Don't worry about some of the glue showing on the surface. Fabric glue for patches usually turns clear as it sets. You can also wipe away any excess with a clean q-tip or another clean applicator.
If you're using backing fabric, it will go on the wrong side of the fabric, aka the side that is on the inside of garments and pillowcases.
Place the fabric on the working surface right side down. Apply the glue in a thin layer all over the patch. Make sure that most of the surface is covered with it.
Check if the sides of the tear are aligned. If you need to, press the area with an iron to make it flat. Then apply the patch fabric over the area and apply some weight. Leave it as well for at least 30 minutes then turn it over to check the other side.
In most cases, you should end up with a seamless finish. In the case of some fabrics like tweed and brocade, there's a chance there will be a few stray threads. You can either use one of those sweater shavers or add a bit more glue on a q-tip and lightly pat at the area.
Cure
Leave the glue to cure for 24 hours. Most fabric glues don't require this step, but I highly recommend it. It will form a stronger bond that would last longer.
Lay the fabric flat. If you've patched something big like a bed sheet, it's fine to fold it as long as the patched area can remain flat and on top. Use the item as usual. If you're using good quality adhesive, you should have no issues for a very long time.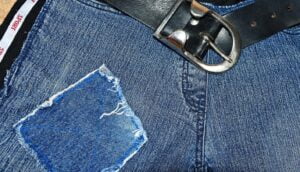 How to Apply a Patch to Fabric with Fabric Glue – Step by Step
The prep step
We again start by removing the wrinkles.
Start by placing a silicone mat or some cling film under the fabric. This time, the main fabric will directly contact the work surface and things can get sticky.
Apply the fabric glue
Apply the glue in a thin and even layer on the wrong side of the patch and apply to the chosen area. Add some weight and you're almost done.
After an hour or two, remove the weight and the silicone mat/cling film. Then leave to cure for better results.
Cure
Just as before, leave the glue to cure for at least one day. It wouldn't hurt to make it two days if you're using one of those thick embroidered patches.
Aftercare
After using fabric glue, there is nothing special you have to do when caring for the fabric. Unless there are warnings on the package, you can wash the fabric as usual.
However, I strongly recommend washing most of your textiles on a cold cycle. You'll have to switch your laundry detergent to one that works in cold water, but it's worth it. All your clothes will last longer and the glue bond will remain strong.
Conclusion
Now you know how to patch fabric with fabric glue. You can fix your old jeans or other clothing quickly and easily!