Do you want to learn hand sewing and are continuously facing problems regarding the needle's handling, how to choose the optimal needle and thread, or are you unaware of the proper methodology of hand sewing? Then welcome to this wonderful article in which I will share some of the basic hand sewing tips and tricks for practical hand sewing of clothes that every sewer must know.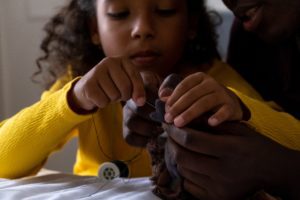 When I started learning about hand sewing or quilting by hand without using a sewing machine, I knew it was tough to understand everything at once. I poked myself with needles multiple times, and the thread used to become more tangled. I learned effective methods that made sewing an easy job for me to do whenever I was free. If you think you can learn sewing by using an automated machine, it is not valid because the basis of learning starts from holding a needle, just as you cannot start writing without holding a pen.
If you are a beginner, this article is perfect for reading and learning about basic hand sewing, tips, and tricks that help make the work easy. You will stitch more beautifully and elegantly, and your learning will keep you motivated to work well.
10 Hand Sewing Tips and Tricks
When it comes to tips and tricks for hand sewing, you will find multiple videos online that will show you how to do everything step by step, but sometimes you don't feel like watching a video. So here I am writing the perfect ten hand sewing tricks and tips that will undoubtedly help you with your work.
Prewashing
Prewashing is one of the most important things you should keep in mind while hand sewing your cloth. Cut the small or uneven edges of the cloth and then soak for at least 30 mins and once it is done, let it dry completely. This will help you know if there is an uneven side of the cloth present or not. The zigzag edges help in the prevention of unraveling of cloth.
Ironing the Cloth
No matter what kind of cloth you are dealing with, it is crucial to iron it well so that you would be able to align it quickly and would be able to take measurements in a better way. After you are done ironing, keep the cloth on the table with a smooth surface so that it would be easy to take measurements and make the adjustments to the cloth as required.
Placing Pins for Position Securing
When you are done with making all of the proper adjustments and measurements, cut the piece accordingly. Secure the pieces that you have to stitch with the help of safety pins. These pins are excellent in keeping the cloth at its place and will not allow it to move so that you can stitch it without getting worried.
Most of the time, I usually face issues while sewing as I forget which piece attaches where. Therefore when I started using pins for securing cloth, it made it a lot easier. You will not need to think about which part you have to stitch as everything in front of you will be present just in the right place. This trick will no doubt make your life easier and your hand sewing even better.
Choosing the Right Type of Needle
Now before knowing anything regarding hand sewing, you must know about needles. There are a variety of needles that you can easily find in your nearby store. There are two kinds of needles: platinum and metallic needles, which can be stainless steel or iron. Platinum needles are expensive and are twice the value of ordinary needles, but they are long-lasting and don't break the thread of the cloth while sewing.
There is a range of numbers present in needles as well. For example, the number 1 is heavy in its weight and significant in its size. These are used for amending sacks or sewing challenging items, whereas the needle of number 10 is fine in its size and is small and sharp.
This small-sized needle will be perfect for hand sewing the clothes. As the number increases, the size of the needle decreases, and it will become more refined and better for stitching. There are two ends of the needle. The pointed end helps with sewing, and the other end has a hole in which you can put your thread or cord through which you want to stitch.
If you buy a need of good quality trust me, they won't wear out as I am still using the needles that I repurchased for six years and they are still the same and in perfect condition of using them again. If you buy a needle of low quality, there are high chances that its hole will probably break down after a few uses. Or, if it is made up of iron, it will catch rust due to moisture in the environment. Therefore invest in the best quality, and it will be with you for a more extended period.
Needles can cause shear, break the thread or cause damage to the fiber of the cloth if used for an extended period. And you will observe this more in needles with low quality. You will need to buy a new needle if you observe that it is becoming hard to pull out the needle or if the needle is snagging the fabric and not sinking into the cloth you are sewing.
Choosing the Right Type of Thread
For hand sewing, you also need to choose the right type of thread for your fabric. You should not choose a thread that is weak and breaks easily. In the same way, you cannot opt for a thread that is too thick to come into your needle hole. For this purpose, you need to select initially which kind of hand sewing you want to do.
If you are doing darting, then you can use cotton thread. It is an all-purpose thread, so you can use it for any kind of neat stitching, like if you are stitching your dress or darting the holes in your dress. If you are also interested in embroidery, you can use silk threads, wool threads, or even metallic ones. Depending upon the type of customized designing you are going to do.
Running the Thread Through Wax
If you are frustrated with your tangled threads, then this is the perfect trick for you. While sewing clothes, if you run your thread from bee wax, it will make your thread smooth and become non-tangly and easy for you to stitch your dress. It will make your insertion as easy as butter.
Using Thimble
As I already told you about myself, I used to poke myself multiple times with the needle, and it used to be very uncomfortable and painful. The easy solution for removing that poking was getting a thimble. Trust me, guys. It is a fantastic product for hand stitching, and it will prevent you from getting poked from needles while you are putting on a button or even a hook.
Using Tissue Paper Under Slippery Cloth
Stitching silk clothes is seriously an issue, and apart from that, various other fabrics slip during hand sewing even if you secure them through safety pins. One of the best tricks for this kind of fabric is that I recommend using tissue paper under the fabric as the tissue paper will stay at its place and won't allow the fabric to move freely.
Ironing the Cloth Before and After Sewing
When you are done with your stitching, it is equally essential to iron your dress after stitching. During this process, try to run over the area you have stitched and press it well. Ironing the cloth will help it come in proper shape and make the crease very well after stitching.
Using Hair Spray for Thread
An additional tip that I would like to give you is using hairspray on your thread if you cannot put it in the needle hole. The hair spray will help in making the end of the string a little stiff. Due to this, you will be able to put it in the hole within no time.
Frequently Asked Questions (FAQs)
What do I need as a beginner sewer?
As a beginner sewer, you will need various things. This includes measuring tape, a good pair of scissors, pinking shears, safety pins, and a sewing machine. Once you have all this stuff, the next thing is to learn the basics I have explained above in the article.
What are some hand sewing tips?
The top hand sewing tip is what kind of needle to select for the specific cloth and thread. You must iron the cloth before and after making it. Measurements are an essential part of hand sewing, so don't forget to secure the cuttings accordingly with safety pins.
What is the easiest thing to sew for beginners?
There are various things that you can sew if you are a beginner. You can stitch a zipper pouch, portable kit bag, or even any kind of holder. You will need to learn how to stitch better on small things to do better on main items.
Conclusion
Hand sewing is not for everyone. If you are a beginner and looking for some practical tips and tricks to help you with your sewing, I am glad that you came across this article. I hope you would have learned a lot of the basic tricks while reading this article. This will help make your stitching more delicate. Some sewers at the beginning also prefer using a handheld sewing machine for the quick task job which you can also consider.  All the best for your stitching!