If you want to adopt a new hobby in your free time, you have come to the right place. I have an excellent suggestion for you regarding learning new skills that are helpful and fun to perform. Sewing is a skill that will keep you engaged for hours without being bored or frustrated. There are so many options and types of sewing, so I assure you will not get bored at all with choosing sewing as a hobby. From simple to advanced level, you will love every bit of it.
Most of us are already aware of sewing at a very beginners level, but there is so much to explore if you already know the sewing basics. Sewing is the best skill to learn because, in this way, you will get a feeling of accomplishment, sewing can save your money, and it is not an expensive hobby like the rest of the others. So in this review, you will learn sewing as a hobby and why it is the best skill to learn.
Sewing As A Hobby
Sewing is a great hobby and allows you to explore more by learning new skills each time. In the past, sewing was only limited to mending clothes, but now you can craft many layers with the help of a sewing machine. You can sew quilt covers, zippers, button bands, cuffs, and collars. You can sew with a sewing machine and without a sewing machine. If you want to do a simple task, you can use your hands to perform that. In contrast, advanced stitching can be quickly done by using a good sewing machine.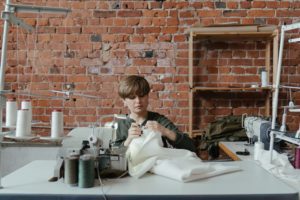 Importance Of Learning Sewing
Creating And Mending Garments
Sewing saves your money. You can customize your clothes. Today we see the branded clothes are costly and are not affordable for many. You can stitch your clothes with ease if you know how to sew. Furthermore, if you are new to sewing, your first task will be mending the clothes that need slight alteration.
Suppose you bought a pair of jeans for yourself and the size you get is too loose or too tight, you can mend it with basic sewing skills instead of getting a new one. If you are a parent, sewing will help you in making clothes for your kids. You can also add motifs and embellishments of your choice on the ready-made clothes. Furthermore, kids are very fond of Disney-themed clothes or bed sheets. You can stitch themed-fabric for your kids too.
Home Decor
The other benefit of learning sewing is decorating your home with homemade cushions, pillows, table runners, bed sheets, chairs, and table covers. You can get fantastic fabric from nearby stores and convert it into something more trendy with your sewing skills.
This eye-catching home decor will enhance your home look and make you feel confident about your skills. You can also gift homemade bags, cushions, and seasonal table runners to your friends and family. You can make gifts for special occasions like baby showers, Christmas, and birthdays with sewing skills.
Boost Creativity
Sewing is the best skill to learn as it will boost your confidence and helps you to create new business ideas while designing new items. Sewing is more than just mending and stitching clothes. It is a vast field in which you can be as creative as you can. You can plan, create new items which will help you release stress from your day. Moreover, it will boost your psychological and emotional health. When your thoughts and ideas are channeled to something exciting and creative, you will feel happy and relaxed emotionally.
When you work out of your comfort zone, you challenge yourself about things you haven't done before. The feeling of accomplishment at the end of the project will boost your self-esteem. Sewing also helps in refining your fine motor skills. As you will be working with thread, needles, and directions, these small details will help your motor skills to enhance and improve in the longer run.
Environment-friendly Hobby
Sewing is a fantastic hobby for those who are more concerned about their environment. We see the world is getting polluted day by day. If you know how to sew, you will recycle and reuse the torn or seemingly useless fabric. You can make pillows or cushions from the used curtains. Moreover, you can reuse a sweater and convert it into a small mug cover with the help of your sewing skill.
Saves Money
Sewing can help you save a large amount of money. If you know to stitch, you can stitch your clothes. You only have to invest in a good sewing machine that is durable and efficient. Knowing basic skills will help you learn more complex and advanced skills and keeps you from investing huge amounts in clothes and home decor items because with your creative sewing skills, you can make outstanding items at your home. Sewing can be an excellent business for women who want to earn at home.
Frequently Asked Questions (FAQs)
Why is sewing a good skill?
Sewing is the best skill to learn because it helps you gain self-confidence and self-esteem. It increases your fine motor skills, concentration, patience and helps you in achieving targeted goals. You work out of your comfort zone to achieve the target, and once you are successful, you feel empowered and accomplished.
Why is learning to sew important?
Learning to sew is crucial because you can save extra money by making your clothes. It helps you get a feeling of accomplishment and boosts your confidence level. Moreover, it is an eco-friendly hobby for those who are more concerned about the environment. With sewing skills, you can mend and alter clothes that are too tight or too loose. Additionally, you can express your ideas and creativity through this skill.
Can you adopt sewing as a hobby?
Yes, you can adopt sewing as a hobby. It is not an expensive hobby, and you just have to invest once in an efficient and durable sewing machine. You can learn basic sewing skills through physical or online classes. You can also learn basic sewing skills through youtube videos and free courses. Once you learn the basic concept of sewing, you can create your projects easily.
Conclusion
Sewing is a creative hobby that allows you to create new ideas, skills, and items. Moreover, you can save lots of money while stitching your clothes; also, it keeps you from spending an extra amount on home decor items like bedsheets, pillow covers, bed runners, and table covers. This review is all about adopting sewing as a hobby. This review will help you know the importance of sewing and why it is the best skill to learn.