When I started to practice sewing again a few months back, I was a little uncomfortable while sewing on the dining table! I know you have been there because initially, everyone does. After all, you don't like the mess everywhere, just like it bothered me. I wanted my own space where I could place all of the stuff regarding sewing in a fully organized way. But my bad, there was not a big enough space empty for me in the commonly used rooms to make my setup where I could spend extra time sewing stuff I wanted to.
I know you will undoubtedly be facing the same problem. Trust me. I have been there. And if you want to know some of the best organization ideas for a small space that you found in your home for your sewing machine set up, then you are at the right place. Because in this article I will tell you how I organized my house's small storage space for my hobby so you can make the most out of it from below mentioned small sewing room ideas.
If you are interested in knowing and learning some effective tricks, then sit back and enjoy this article because here I will tell you about the methods that I followed to arrange everything accordingly in separate compartments and make my space perfect for working.
10 Sewing Room Ideas For Small Spaces
When you are working passionately for something, you want it to be neat and thoroughly organized. The same is the matter with sewing. You can just put every bit of pieces together or in the different plastic paper. You will certainly need a proper setup to remove this mess. So here are some of the best sewing ideas for the small space.
Sewing Table with Multiple Drawers
The 1st most important thing in our small sewing room ideas is your sewing table which is one of the essential items when it comes to sewing. If the sewing machine table is large and bulky, it will probably take extra space, and you will need a specific point to place it instead of the place you selected for your sewing setup. So buy a small table in size and with a medium weight so that you can place it easily in your desired space.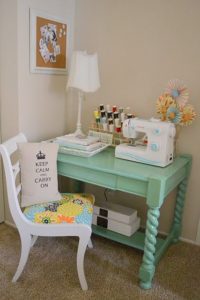 It would be best if your sewing table comes with multiple drawers. All of these drawers will be good and useful, while you will need compartments to store your needles and threads and other items related to sewing like a ruler and measuring tape etc.
Using Underbed Storage Bins
Underbed storage bins are an excellent choice for storing fabric and the clothes you have already stitched. You can organize the clothes neatly and put them in these storage bins which can be placed on each other. These will help organize your fabric neatly and in the way you want it to.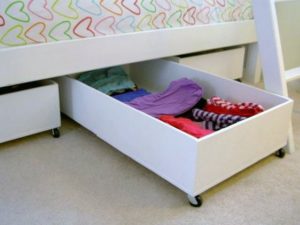 Apart from storing fabric, you can also place your cut pieces and other leftover fabrics in an assembled way in these baskets while saving them for later use.
Purchasing an Organizer with Compartments
If you have a table that doesn't have enough drawers, you can easily buy an organizer with multiple compartments. On each compartment, you can place small organizers in which you can place your beads, buttons, threads, needles, and other stuff separately and in an organized way so that you can find them at once whenever you need them. You can place it in your useful pencil or marker boxes here as well.
Boxes for Tools
While stitching and sewing clothes, you will need various tools apart from scissors only. You can secure these tools by placing them in the boxes and placing them in the compartments. If you have small children at home, make sure to place child safety locks everywhere. Another thing that you can do for this purpose is putting the bells somewhere near the door so that you can listen if someone has entered that space or left.
Hanging Cutting Board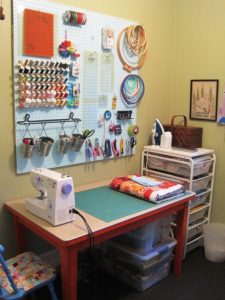 Cutting board is an essential item when it comes to stitching. This tool helps you to take perfect measurements and cut the fabric according to the desired method. If you purchase a cutting board, it will be very easy for you to use, and once you are done cutting, you can easily place the cutting board on the hanging you have in your room. Therefore it won't be able to take extra space in your room.
Using Pegboards
You can find various pegboards online in different stores. They come in all sizes and different shapes. You can choose the size of this board according to your own choice. Once you have selected, you can simply hand various objects on it that will be right in front of you, whenever you need it. It can be used to hang scissors, thread openers, and various other tiny gadgets that you will need most.
Bins with Supplies
Bins are no doubt the best storage places. You can place all of the semi-stitched fabrics here. Other than that, you can place your emails, accessories, mobile, and other items in small bins depending upon the size. These are best for excessive storage of products, even if it is for the time being.
Clear Ziplock Bags for Patterns
Patterns are essential when it comes to stitching. And you can quickly get irritated when you are looking for them but can't find them. So here is an easy solution. Whenever you make a pattern, you can easily conceal it, place it in a transparent ziplock bag, and place it in a specific container made for patterns. In this way, you will find them easily whenever you feel like you need them.
Unfolding Chair
For making a space in the room when you are not working, removing the sewing chair away will make some space in the room. It would be best if you would consider this idea of using an unfolding chair. These are perfect when you are working, and even when you are done working, you can simply fold them and put them aside.
Foldable Ironing Station
It usually becomes difficult to place a separate table for ironing the clothes in a small space as you will need to do it multiple times. For this purpose, you can use a foldable ironing station. You can use it when you are working and put it away when you need it. Keeping the room and space around you will undoubtedly increase your productivity level and help you develop more focus.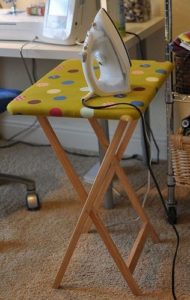 Apart from these main organizing ideas, you can apply various other ideas too. Like you can use baskets for properly keeping all of the stuff well organized like fabric etc. and for small items you can buy rubber or cheaper small boxes in which you can put needles and buttons in a well-managed way. You can also use a hand vacuum cleaner to remove threads from the floor once you are stitching. And if you are afraid of any broken needle or safety pin. Then you can have a magnetic collection that will help you to find them from the floor.
Frequently Asked Questions (FAQs)
How do you organize a small sewing room?
You can organize a small sewing room by keeping everything in a specific fixed position, by keeping items in buckets, pegboards, and organizer compartments. You can also use hanging cutting boards, foldable chairs, and iron stands to make your room more organized and well-managed.
How do you organize sewing supplies in small spaces?
There are various storage tips that you should undoubtedly follow for small space:
Make a list of items according to their necessity and efficiency while sewing and organize them according to it.
Keeping the area neat and clean and using boxes and containers to contain everything.
By using bed storage bins will help contain all of the extra fabric in the room.
These are some significant tips. You can find the rest of them easily in this article that explains the starting and managing of sewing products in small spaces.
How do you organize a sewing room on a budget?
There are various ways to organize your sewing room according to your budget. You can store fabric and other materials in plastic bins. You can use plastic organizers and small cheap buckets for managing the room and keeping the tools and other products in them safely.
Conclusion
If you have a small space in your house where you have to organize your sewing machine and its products according to your desired way, then I am confident that you will feel this article is beneficial related to small sewing room ideas. And it will help you to organize your stuff in a better way. While keeping the mess away so that you could do your work more passionately, even being in a small space.