Imagine, you just get your jeans out from the wardrobe and find out it has a hole, sad, right? Don't worry, these scenarios exist, but they do not have to be the end of your jean fabric. There are easy repairs that you can use to fix your damaged jeans in such a way that nobody would be able to tell it.
Holes and tears should not make good acceptable jeans useless. And for that reason, we can mend them, by utilizing creative embroidered designs or colorful patch styles while fixing holes. It's just like you bring new life into damaged jeans.
Below is a detailed guide on how to patch up a hole in jeans. Basically, this article will cover two scenarios, how to fix the hole in jeans with a machine and how to fix the hole in jeans without a machine, so you can easily do it the way you like.
Let's have a read!
How to Fix a Hole in Jeans with a Sewing Machine
Here you will learn to fix a hole in jeans with the help of a sewing machine. Check the following suggestion out!
Patch it up
Patching up jeans is perhaps the most common option to save your favorite pair of jeans. You can easily do it with any ordinary sewing machine. Moreover, it is also appropriate for bigger holes and rips.
So, all you will need for this is your jeans, sewing machine, and a piece of cloth. The patch can be put from the inside or sewed on the outside of the jeans. You can use a patch of any of your favorite colors or a simple blue piece or maybe a denim piece from a pair of old jeans. Personally, I would go with a colorful patch as it will add contrast and if done right will stand out beautifully.
An additional idea is to sew a patch with beautiful stitching or a design from another beloved pair of jeans. It would complement your ripped jeans nicely. Old pockets from worn-out jeans make excellent patches and with the correct color, they will completely conceal the hole.
Moreover, if you can measure the exact area of the damaged jeans part and cut the patch accordingly, it would be great, you'll get a neat result.
Always use a heavy-duty needle and strong thread while patching so it can pierce the denim and patch well. And yes, never forget to iron the hole and patch before beginning the process, it will help you avoid any thread and crease mess.
With the Help of Darning
Darning is a wonderful approach to repair holes in jeans if the threads are still attached in large areas, I mean if you haven't clipped them out. The darning stitching will keep those loose threads in place and brace the area.
Okay so, first you don't have to cut or clip the loose threads, as it is the mandatory ingredient of darning. To flatten the edges, press the hole or damaged place. Cut a patch from another piece of cloth (this time, try to choose a blue shade). Pin or paste the patch inside hole to keep it in place.
At this point, with the help of a sewing machine, repeatedly stitch across the hole. The pattern would be like drawing zig-zag lines on the hole with a needle and thread. However, if you are having difficulty while doing zig-zag stitching, you can first make horizontal stitching lines and then vertical stitching lines over them. This will keep the loose threads in place and produce a strong reinforced area.
In darning, you get the stitch length as small as possible. For maximum visibility, use a similar color thread. Moreover, you can sew with either a conventional presser foot or a darning foot.
Here is a video to learn more about this process.
Sewing an Embroidered/Plain Patchwork Piece
I think jeans with embroidered or printed patches look fabulous, no matter if you are a girl or a boy. It can simply transform them into a one-of-a-kind piece of clothing that everybody will be gossiping about. If you have a quilting friend, you may ask her/him for a little patchwork piece; I'm sure they'll have one to offer you.
So, first, you have to pinch a few pins and place the patchwork piece over the hole. Do zigzag stitching with a sewing machine. Sew around the patchwork block's edge, and it's done.
How to Fix a Hole in Jeans Without a Sewing Machine
Obviously, not everyone wants to sew a patch on their jeans, or maybe they don't have the sewing machine available. For that reason, here are several more techniques to solve your question "how to mend a hole in jeans". Before jumping into each way in detail, you can check out this short video to learn easy ways to fix a hole in your jeans.
Hand Sew the Damage Straight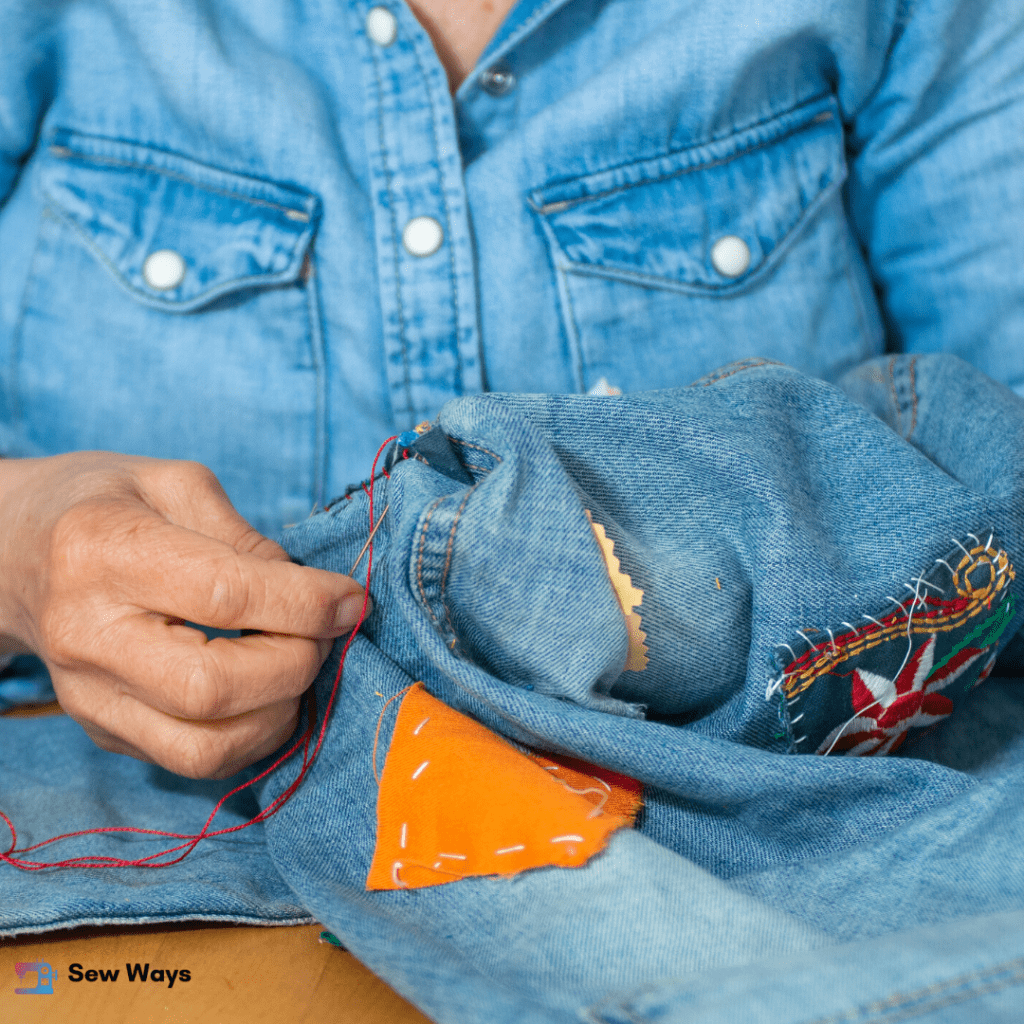 Straight rips may not appear to be a hole, but if not repaired as quickly and efficiently as possible, they would become one. If the threads are still around to stitch up and cover, this method works wonderfully. Long tears should be mended by hand whenever possible.
Begin by applying cloth mending tape or iron-on aligning to the rip. This helps to hold the rip together and gives you something to stitch onto. So when the tear is stable, use an overlapping stitch to join the strands. Remove any extra fabric from inside the jeans' fabric mending tape.
Use Hand Embroidery Technique
To hand mend holes in jeans, use embroidery or darning stitches. If you choose contrasting colors, this might seem rather interesting and imaginative. Nobody will notice that your lovely embroidered pattern is concealing a hole in a pair of pants. It'll be a sturdy fix that also looks nice. Remove any loose threads from around the hole and iron the edges flat.
Cut denim or sturdy fabric piece that is at least 1 inch bigger than the hole.
To reduce breakage, try rounding the edges. If required, use darning shears on the patch edges to prevent fraying.
Apply bonded interfacing around the patch's edges. This will strengthen the edges and keep them from tearing anymore.
Inside out, fold the jeans. Put the patch over the hole, pressing the correct side of the patch against the damaged side of the jeans. Make sure the hole is fixed with a pin. To ensure that the patch does not slide, baste it in place.
To finish the mending, flip the jeans to the correct side and select some creative embroidery stitches. Embroider along the edges of the patch before moving on to the middle to embellish.
Iron-on Denim patches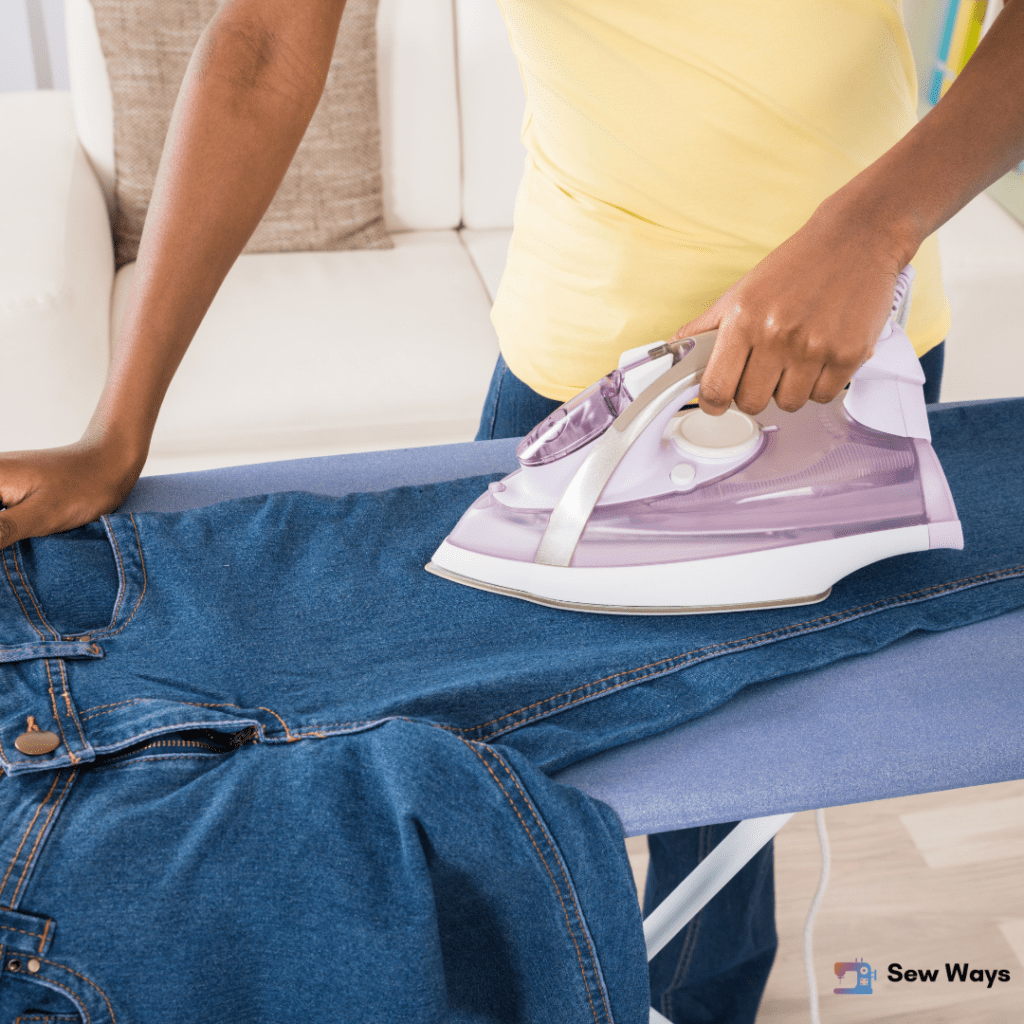 You can easily get denim patches from a retailer. They have an adhesive back and you can simply iron them on top of the hole. Many companies provide a variety of denim hues, allowing you to match your jeans.
Iron-on denim patches are a simple fix, but the patch may also be sewn all the way around for increased resilience. In an emergency, a patch like this may be a useful addition to your vacation repair kit.
The process of iron-on denim patches is so easy. All you have to do is to remove the protective film and iron it on the part of the jeans you want to repair.
At this point, iron over patch at the specific temperature and use a pressing down motion to do it. Make sure you thoroughly stream and bond the borders. Keep in mind, several patch companies advise waiting 24 to 48 hours before washing the newly patched jeans.
Iron-on Embroidered Patches
Iron-on cloth patches or embroidered patches may conceal a hole and add a splash of color and style to your pants. Just like denim patches, you can iron on or strengthen with sewing around the edges. But, still, there are some basic steps you should follow. Here are they are;
Set your iron to the patch's suggested temperature. In most circumstances, this will be one of the warmest settings.
Place the embroidered patch on the hole of the jeans. Press hard for the prescribed time, using a towel or cloth between the patch and the iron. Because most patches are composed of polyester or synthetic fibers, it is essential not to use the iron straight on them or they may melt.
You might have to iron the patch a few times to ensure that it is bounded on all sides.
Furthermore, make sure to buy a matching embroidered patch, so you don't regret it later.
Transform it to A Ripped Jeans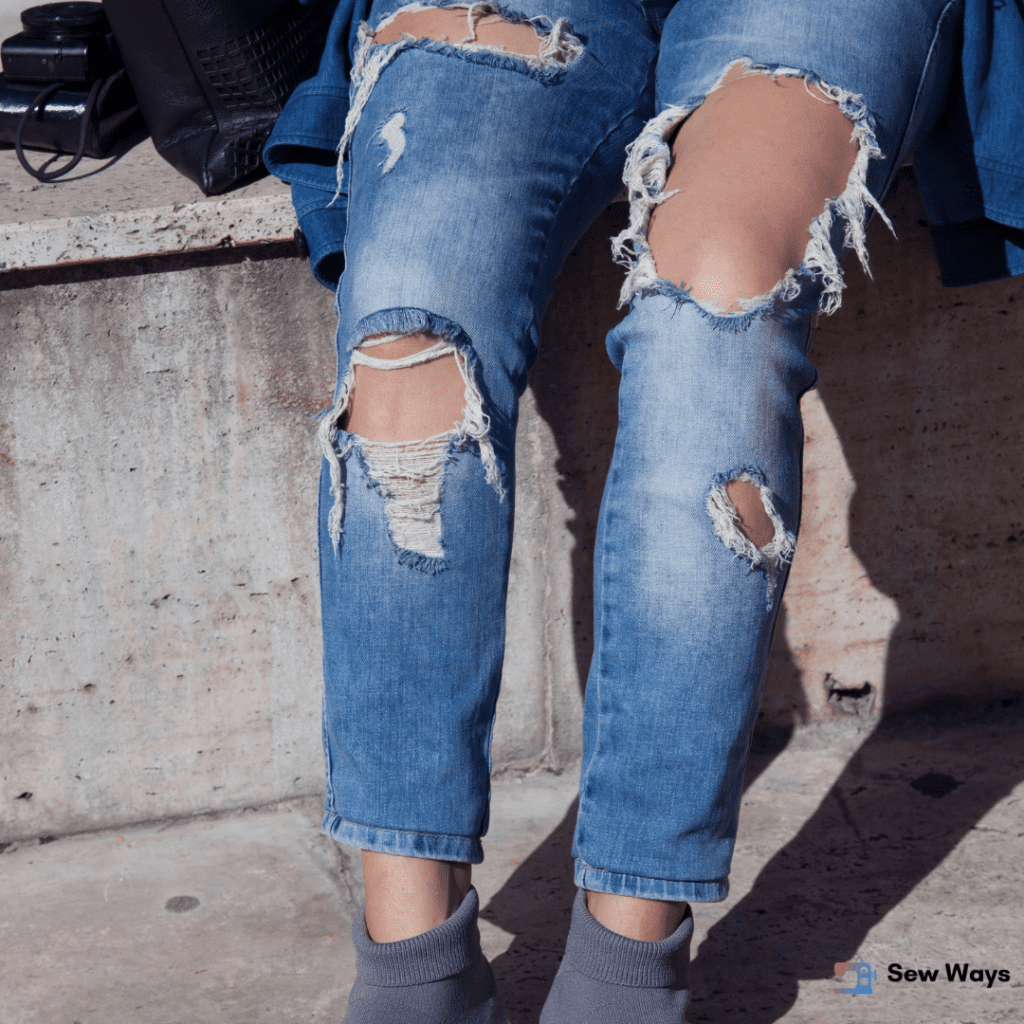 It is sometimes preferable to transform a problem into a potential. In this scenario, we may transform our wrecked jeans into an amazingly fashionable set of ripped jeans.
Well, how do we get from wrecked to rip? It couldn't get much easier than that; all you need is a pair of scissors, some sandpaper, and a flat surface. If you do not have any sandpaper on hand, don't panic; you can use anything abrasive, even a mozzarella grater!
As you're probably aware, the rough, ripped jeans appearance is becoming widely trendy in current times, so why wouldn't make the best of a bad situation and turn your jeans into a fun experiment?
Depending on the location of the hole or rip in your jeans, insert a little item inside the pants in that spot. This will save you from shredding both ends of the jeans by accident.
Start by softening the area surrounding the rip or hole in your jeans with your abrasive tool – whether it be sandpaper, a grater, or anything else you managed to locate. You get the frayed effect by using this method.
Frequently Asked Questions (FAQs) Related to Fixing a Hole in Jeans
What is the best method to fix a small hole in jeans?
Sometimes small holes are not highly notable. I would suggest you not make them bigger and more prominent while adopting wrong repair methods, like, patching, embroidery, or ripping. Just use darning by hand with the same solar of thread. It will keep your jeans minimal. Again it's your choice!
What are the easiest and best embroidery patterns while mending a hole in jeans?
Flowers or petals are the easiest embroidery patterns when you are fixing a hole in jeans. However, if you are a male, you can embroidery your name initial on that hole with blue or black.
How to stick iron-on patches?
Enough heat is required to melt the adhesive on your jeans. Always read the instruction, check on what temperature it requires to stick. Press it while placing a towel over it (especially if it's an embroidery patch). Don't wash it for at least a day. Make sure your jean is not wet.
How to prevent the patch from falling off?
If you are stitching the patch I would say use a strong thread and needle. While on the other hand, if you are using iron-on patches, iron them evenly and if any of the edges fall off, don't reapply it. Remove it and use another one.
Wrapping it up!
Now that you understand how to repair a hole in jeans, you can wear your jeans again! It makes no difference how you patched the hole in your jeans. So try and fix your jeans and relish the charm of jeans repaired for a longer period of time.