Janome has been around for over a century now and is one of the pioneers when we talk about modern computerized sewing machines. Over the decades, they have produced some class-leading sewing machines. In fact, some of their models are still popular and relevant even after decades of their first release. One of such models is Memory Craft 6300P which still finds its admirers.
Janome MC 6300P is a heavy-duty sewing machine for sewing and quilting passionates. It essentially is a computerized sewing machine offering plenty of features for professionals. In fact, the "P" in its name indicates for professionals. However, this machine equally serves beginners because of its ease of use.
In this piece, we will put a detailed Janome Memory Craft 6300p review. We will go through some of its features that make it stand out and some of its potential weaknesses. So, without further ado, let's get it started.
Janome Memory Craft 6300p Specifications
| | |
| --- | --- |
| item Weight | 18 lbs |
| Item Model No | 6300p |
| Color | white |
| Dimensions (L x W x H) | 13 x 26 x 18 Inches |
| No. of Pieces | 1 |
| Batteries Required | No |
| Bobbin | Drop-in bobbin |
| Stitching Speed | 1000 stitch per minute |
| No of Built-in Stitches | 66 |
| Button Holes | 4 |
| Maximum Stitch Width | 7 mm |
| Maximum Stitch Length | 5 mm |
| Presser feet included | Yes |
Janome Memory Craft 6300p Review – Features That Make It Stant Out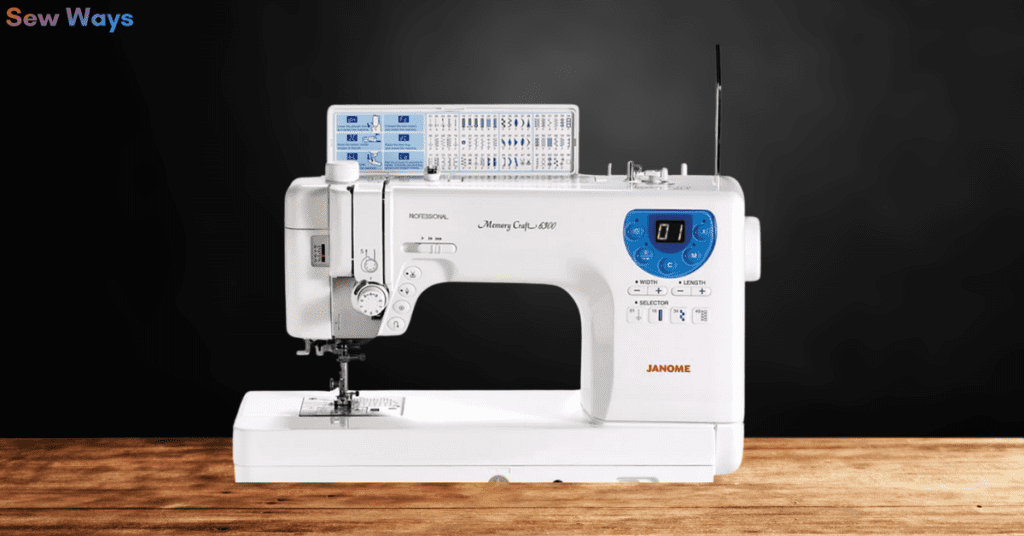 The LCD Display
The first thing to catch attention when you uncover your Janome MC 6300p is its LCD display. You get a variety of control buttons around this display to work your way around different functions of the machine. The LCD screen has a backlight display that is easy on your eyes and provides good readability.
The touchscreen option allows users to select stitching designs easily. Furthermore, it displays a variety of information about important functionalities of the machine, such as the position of the twin needle guard and the status of thread in the bobbin via a bobbin indicator light.
Independent Bobbin Winder
Manually winding the bobbin is a time-requiring process. Most of the machines have systems linked to the main handwheel for filling the bobbin when inserted in the bobbin spindle. However, Janome MC 6300p offers an option of an independent bobbin winder. This essentially fills the bobbin automatically without exerting the routine machinery. This feature is important to increase the durability of the machine.
Convenience Buttons
There are buttons above the needle assembly that allow you to control the automatic features of the machine. As the name indicates, these convenience buttons add convenience to sewing and quilting processes. These buttons are responsible for memorized needle up/down, thread snips, locking stitch button, and speed control slide that helps to control the speed of stitches per minute.
Memory Feature
With its memory feature, a user can create a design and save it for future use. This feature gives a boost to creative designers who experiment with new designs. Moreover, it also supports professionals who need to create a particular design over and over again.
This way, you can easily save your customized stitch design, length, and width by pressing the memory button. The LCD display confirms when you add a new design to the machine memory. Furthermore, you can retain this setting in the machine memory or transfer it to a separate USB drive for later use.
Various Stitching Designs
To give an exclusive experience to sewers, a machine must offer features that excite the sewers to stitch new styles. This machine offers more than sixty designs other than the normal stitch we use for stitching the fabric. Some of these designs include zig-zag, french stitch, lazy daisy, backstitch, split stitch, and many others. Some of the stitches are also good for doing embroidery on a variety of fabrics.
Among the stitching designs, you also get an option to sew buttons to the fabric. They also call it the 4 one-step buttonholes feature. This makes the user's life easier as there remains no need to use a hand needle and thread to attach buttons manually.
Automatic Features
As indicated above, this machine includes many automatic features. Each of these automatic features is purpose-built and performs functions that make the sewer's life easy. For example,
A built-in needle threader provides the convenience of passing the thread through the needle hole. It saves time and energy. This feature is extremely helpful for the elderly and people with weak eyesight.
Auto declutch bobbin winding option does not let the automatic horizontal full rotary hook bobbin system overfill the bobbin.
The automatic thread tension control feature is crucial to maintaining the stitch quality as users switch between the stitching designs and fabric material. As the machine adjusts its settings automatically, the user enjoys stitching with perfection.
The automatic thread cutter is an extremely useful feature to give finishing to the fabric after you are done with the sewing process. It frees from the extra time-consuming and labor extensive process of chopping extra threads.
Memorized needle up/down feature knows where to place the needle when you want to lift the fabric from the sewing assembly. This may sound absurd feature at this level but significantly helps the sewer and quilter practically.
Stitch adjustment and editing options are a great help as you sew through the fabric speedily or try new designs using various types of stitches.
Accessories You Get with Janome MC 6300p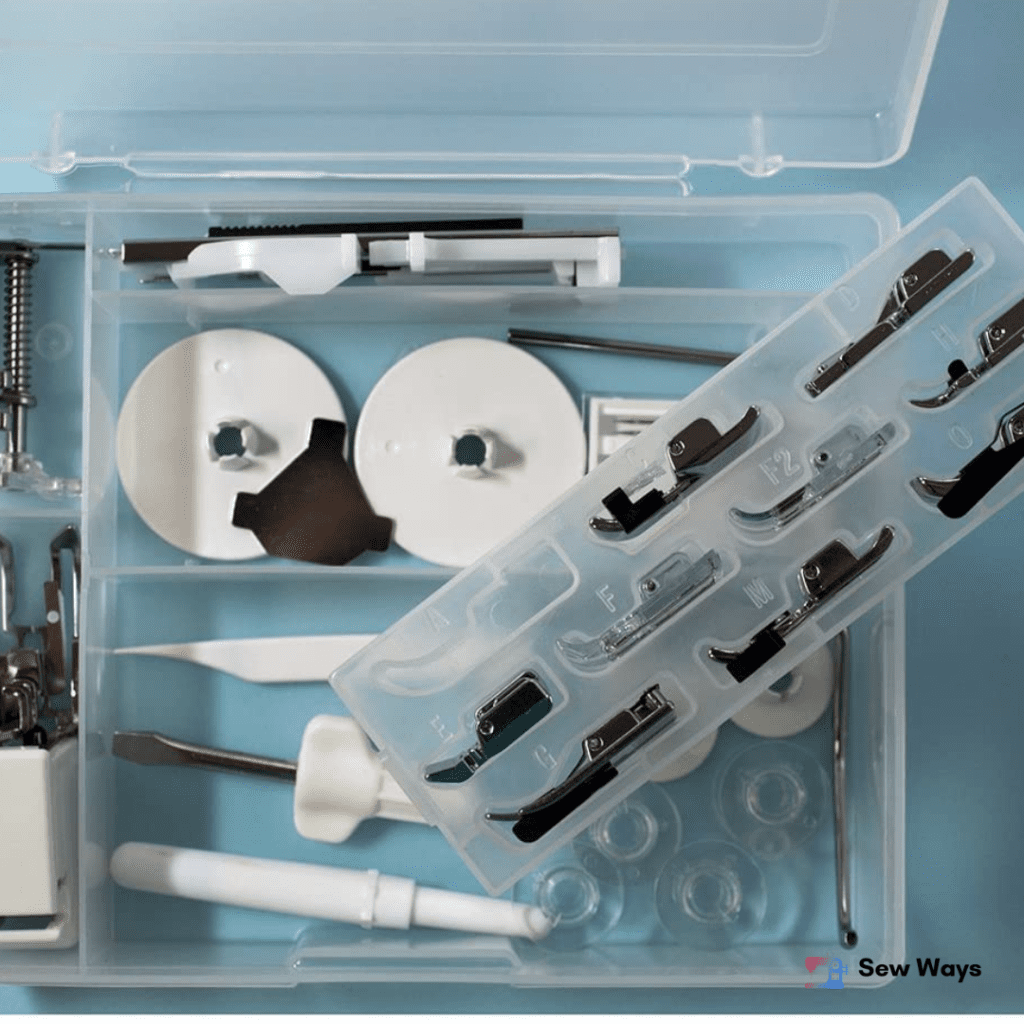 The machine comes with a good deal of accessories that put value to your experience with Janome mc 6300p. These accessories help users to experiment with their machines, explore options, and craft fabric beautifully.
Janome provides a box full of accessories as you purchase this machine. The especial accessories include
Zigzag Foot  (comes attached to the machine)
Satin Stitch Foot
Open Toe Satin Stitch
Overedge Foot
Zipper Foot
Rolled Hem Foot
Overcasting Foot
Basting/Darning Foot
Cording Foot
Blind Hem Foot
Automatic Buttonhole Foot
Spool Holder (large and small)
Quilting Bar
Screwdriver
Seam Ripper
Lint Brush
The accessory box also included routine accessories like a bobbin, power cord, foot control, knee lifter, set of needles, and course the instructions manual. With all the necessary accessories in hand, you can start using this machine right away.
Pros
Automated and computerized machine
Can stitch a variety of fabrics
Great stitching speed at 1000 stitches per minute
66 different built-in stitches
Mettalic body makes it durable and long-lasting
Great for quilting and can stitch through several layers
Faceplate thread cutter
Independent bobbin winder
Memory function helps save any design
Comes with a manufacturer warranty for 25 years
Cons
Its extension table can be difficult to work with on an uneven surface
Lacks a free arm
Price is on the higher side but you expect that from a Janome
People Who Should Buy Janome Memory Craft 6300p
Janome MC 6300p offers great features, but it also carries a relatively higher price tag. Therefore, depending on your skill level and intended use, you must know what you are getting yourself into. So, let us see who should invest in this machine.
Professionals
The machine has advanced features that can accommodate the requirements of professional tailors and designers. They can use Janome mc 6300p for styling, designing, and quilting fabrics of various types. The machine provides ease of use while providing excellent quality stitch and designing options.
People Running Home Businesses
Many people running fabric designing and styling businesses from their homes require a professional machine to accomplish their projects with perfection. You can also use it to craft home decor materials. They can not opt for large-sized machines due to space and placement issues. This memory craft 6300 provides all the functionality in its compact design.
Quilters
Quilting is different from sewing, and most sewing machines do not support this feature. Investing in two machines is a not-so-friendly option in terms of placement and pricing limitations. Janson memory craft 6300 solves this problem by providing a 2 in 1 option. Quilters can enjoy sewing and stitching using a single machine.
Sewing Lovers
Sewing lovers must own this machine due to its versatile options. Whether you are an all-season sewing specialist or it is your part-time hobby, you should invest in this machine if you enjoy playing with fabrics. You can place this machine on a table and enjoy stitching fabrics whenever you want.
Beginners
If you are a beginner looking forward to exploring sewing, different types of stitches, and quilting, this machine is one of the best solutions to all your demands. This machine will allow you to expand your dimensions and learn stitching in an easy way.
Frequently Asked Questions (FAQs) About Janome Memory Craft 6300p
How do I reset my Janome sewing machine?
You can reset your Janome machine for routine sewing by sliding the bobbin winder spindle to the left and pushing the handwheel back in.
How long does a Janome Sewing Machine last?
Janome produces one of the most reliable machines around. You can use your Janome machine for more than five years without facing any issues. The company offers a 25-year warranty for their machines, and your machine can last forever until you need a newer Janome with advanced features.
Which is better, Janome or Brother?
Brother machines are a good value for money. Janome's are heavy on the pocket but incorporate great built-in material, offer good stitch quality and features, and are generally long-lasting. Thus, if you are looking for a more long-term investment, Janome's is a no-brainer.
Which is the best Janome sewing machine?
Summary
The Janome memory craft 6300p comes with a plethora of features and is certainly one of the finest from Janome. Its ease of use in the presence of some advanced features makes it stand out. Moreover, its powerful stitching ability at 1000 stitches per minute and plenty of throat space makes it great for quilting and stitching thick fabrics.
Its metallic body makes it durable and a great investment. It does carry a couple of minor drawbacks but its pros certainly outweigh the cons and make it a great choice for professionals and amateurs alike.