If you have been stitching for quite a while, you have probably noticed that there's always a moment when you have a look at the edges of your piece and wonder if there was a way to give them a professional finish.
No doubt, your stitching is excellent, but admit it you always want to improve on it and make it even better. You definitely require a solution, and the solution is a competent seger.
A seger is a type of sewing machine that seals, binds, and trims seam edges all at a time. When we talk about quality segers, Brother 1034D is definitely on the list. But, is it worth all the hype and the price it carries. Below is a detailed Brother 1034D review.
Let's dive in deeper!
An Overview of Brother 1034D Serger Features
| | |
| --- | --- |
| Weight | 8.02 pounds |
| Model | 1034D |
| Colour | White |
| Dimensions | 10.98 x 11.73 x 13.9 inches |
| Power | Treadle powered |
| Assembly required | No |
| Batteries required | No |
| Stitching speed | 1300 stitches per minute |
| Item depth | 10.9 inches |
Brother Serger 1034D Review – Why or Why Not You Should Buy This?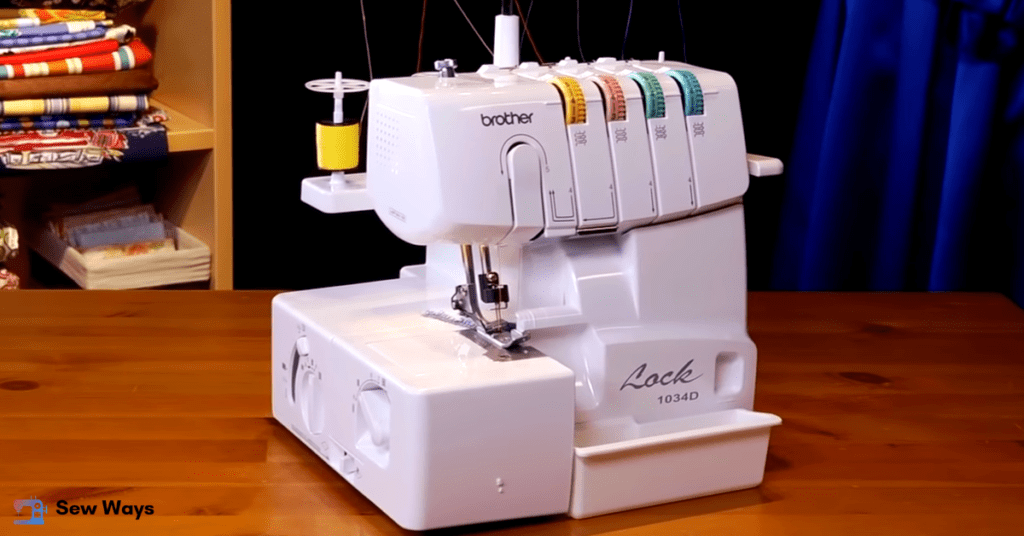 If like many others, you still stitch your edges and hems using a standard sewing machine, you will be blown away by the Brother 1034D Serger sewing machine the first time you will use it. If you work with challenging fabrics like silk and other stretchable fabrics, this machine is no less than a gift for you. Below is a further detailed description of its features and what makes it stand out.
Easy Threading
First let's talk about Brother 1034D stitches. It basically incorporates color-coded lay-in threading that is simple to thread. The bottom half's looper threading feature is developed in such a manner that the thread remains in its proper location. On the inside cover, you get a diagram for threading and this makes it even simpler and more accurate.
In addition, rethreading on this machine is also simple and quick. Therefore, you don't need to be concerned even if the thread is running low. It threads effortlessly and works through thick fleece and denim with ease. The ¾ thread Serger provides excellent edge finishing on a wide range of fabrics such as linens, knitwear, and formal wear.
With the help of this Serger, you can create beautiful edges, ruffles, gathers, attach laces, crisscross straps, serge thin sleeves, and so much more!
Differential Fabric Feed
Differential fabric feed aids in the improvement of stitch quality on particularly all fabric types, including knitted, thin, and stretchy fabrics. This machine comes in handy when stitching these types of fabrics.
Another important consideration is that, with this differential feed, you could even sew on fabrics of any texture and work on stripes uniformly. In Brother 1034D, the differential feed ratio is from 0.7 to 2.0..
Versatile Stitching Options
You may select from 22 built-in stitch operations, including three-thread overlock, four-thread overlock, rolled hem, blind hem, flatlock stitches, narrow hem, and ribbon lock stitching.
Additional alternatives for formal dress and bridal wear material are also available if you work with Serger 1034D. Moreover, it excels with its decorative sewing abilities and is a great option for any home decor project.
Fortunately, reinforced tape sewing and antique stitching are two other options. The overlook machine is ideal for locking pajama bottoms, serging napkin edges, and doing lock work on flat seams,  ruffled skirts, and ornamental stitching. The changes to make different finishes are likewise pretty simple with Brother 1034D Serger.
Great Stitching Speed
It can sew at a speed of 1300 stitches per minute while delivering superior quality stitching and so saving time. This speed definitely makes Brother 1034D amongst the fastest when we talk about domestic sewing machines.
Durable Body
The first sewing machines were entirely made of metal, both inside and out. Companies phased out and replaced metal parts with plastic ones throughout the time. This enables the machine to be lighter and also lowers the price. On the other hand, it reduces a machine's durability and ability to do hard labor.
Fortunately, the metal frame and parts of the Brother 1034D serger will no doubt satisfy many of you.
Removable Free Arm
Simply remove the detachable arm to serge cylinder-shaped designs like sleeves. It comes with two snap-on feet, needles, a foot controllable, a softcover, and other accessories.
Accommodating Foot Pressure
In Brother lock 1034D, the presser foot pressure is entirely adjustable, ensuring consistent quality and strong stitching on light and heavy materials alike.
Moreover, if you are working on lightweight materials it will help reduce chafing and make stitching curves simpler. Thus, you can use it for blind sewing with a blind stitching presser foot, flatlock sewing, and pintuck stitching.
Accessories
This serger sewing machine comes with 4 thread nets, 4 large spools of serger thread, and 4 thread spools. Moreover, you get tweezers, a hexagonal screwdriver, foot controller, trim trap, cleaning brush, a needle set, and a softcover.
Pros
Option of using standard sewing machine needles
Simple to operate, making it ideal for newbies
In addition to the 22 built-in stitches, you can create your own assortment of stitches
Threading is simplified by color labeling and numbering
Presser foot that functions smoothly
Finishing with superior efficiency and elegance
Cons
It is not possible to utilize a rolled hem on all textiles
Instead of an LED light, you have to use a bulb
What Makes Brother 1034D Great for Beginners
For a new user, the serger is ideal. This is because it contains a big, faster, and easier presser foot lift, as well as needles, a blade, and a stitch finger that are simple to insert and retrieve. Moreover, it includes a few tools to get you started, such as spool nets, tweezers, extra needles, and is pre-threaded with four different colors. Thus, a novice can easily get on with her stitching.
In addition to the above, it has a fairly straightforward assembly. You will like its tidy and precise serging. Furthermore, it gives you the ability to modify according to the fabric type. Stitching length and form modifications are also offered.
How to use Brother Serger 1034D?
Move the handwheel till the needle gauge reaches its maximum height.
Then, insert the needle up as far as it could go, with the flat side facing you. Using the hexagonal wrench, adjust the needle set screw tightly.
When threading this machine, you must remove the front cover. Input the three-pin plug into the port on the machine's bottom right side. Simply, start by plugging the power cord into an electrical socket.
Whenever the pedal is softly pushed, the machine operates at a modest pace. The machine's speed increases when the pedal is pressed further. And, the machine comes to a stop when the foot is removed from the pedal.
Here is a video to understand more regarding how to use Brother Serger 1034d in a simple way.
Brother 1034D Vs Brother 1034DX – Just a Cosmetic Update Or…?
After the great success of Brother 1034D, Brother released its updated version in 1034DX. You can probably guess, it is a deluxe version of Brother 1034D and comes at a size of 13 x 15.25 x 14.5 inches. In addition, it comes at almost double the weight of 1034D at 16.4 pounds.
Other than that, 1034DX has a different positioning of its control knobs. In the newer version, you have the stitch length and differential feed knobs on the right-hand side. However, in 1034D they were on the left-hand side. Moreover, you will find the stitch width adjustment dial near the trim trap in 1034DX. This is opposed to 1034D, where it is on the left hand.

That said, all the major stitching features remain the same. These include the stitching speed, color-coded threading and you also get the same variety of stitch options. Moreover, both, 1034D and 1034DX,  come with differential feed and are ¾ thread sergers.
In short, 1034DX is simply the deluxe version of 1034D, is much heavier, and has different positioning of the control knobs/dials. Other than that, the performance of both of these is the same. Arguably 1034Dx provides better ergonomics, but if you own 1034D it is better to stick with it. However, if you are going to get a new serger, I would personally go with 1034DX.
Frequently Asked Questions (FAQs) About Brother Serger 1034D
What types of fabrics can I use with Brother Serger 1034D?
You can handle all types of clothing with the same high-quality stitch consistency. In this, you need to change the differential fabric feed ratio from 0.7 to 2.0 based on the fabric. You can sew elastic, thin, and knitted textiles with your serger.
Can a coverstitch be done on a Brother 1034D Serger?
Certainly, the Brother 1034D could deal with a wide variety of fabrics. Unfortunately, even with the optional presser foot, it cannot execute all types of stitches. So, it's a NO when it's about Brother 1034D cover stitch.
Can I manage the stitch width with Brother 1034D?
Yes, you can easily alter stitch width from 5 millimeters to 7 millimeters using a dial control.
Is it easy to thread on Brother 1034D?
To thread your bottom looper, take out a sliding guide to grab your thread. This is incredibly beneficial! Older serger models are far more difficult to thread.
Is Brother 1034D able to stitch curtains and covers?
Because the machine can execute soft gathers or shirring stitching for curtains or sew lace on cloth borders for a beautiful item, it may also be useful for home decoration and arts & crafts lovers.
Wrapping it up!
If you've determined that a serger should be in your workshop, then Brother 1034D is a good starting point. It contains all of the essential characteristics of a serger on top a few others. Based on your work scope, this model carries excellent value for money.