Juki HZL F600 is a premium and feature-rich sewing machine that targets professionals and enthusiasts. It is a fully computerized machine that offers super-fast speed, a plethora of stitch patterns, a large number of buttonholes, and tons of accessories to make it versatile. Because of its well-thought-out design and sturdy construction, it still enjoys popularity and critical acclaim even after eight years of its release.
The Juki F600 is an excellent option for users hunting for a professional machine that can last an entire lifetime. That said, the price tag of the machine is quite hefty and with newer machines coming up the horizon at affordable prices, one can wonder whether it makes a wise purchase.
Let's find out in this Juki HZL F600 Review.
Specifications of Juki HZL F600
| | |
| --- | --- |
| Sewing Speed | 900 SPM |
| Needle Type | 130R/705H |
| No. of Stitches | 225 |
| Max. Zig Zag Width | 7mm |
| Max Stitch Length | 5mm |
| No. of Buttonholes | 16 |
| Presser Foot Lift | Manual |
| Adjustable Foot Pressure | Yes |
| Bobbin Type | 15 class |
| Machine Weight | 21.6 lbs |
| Shank Type | Low |
Have a look at the main Pros and Cons of the Juki HZL F600 sewing machine.
Pros
Flexible Presser Foot Pressure
Rapid sewing speed
Thread cutter
Great for quilting
Box feed technology
225 sewing patterns
Large LCD display
Large and wide sewing area
Offers decent personalization
Comes with different presser feet and other accessories
Cons
Not suitable for beginners
Expensive
Check Price on AmazonCheck Price on Sewing Machine Plus
Design & Built Quality : Intuitive Design with Durable Structure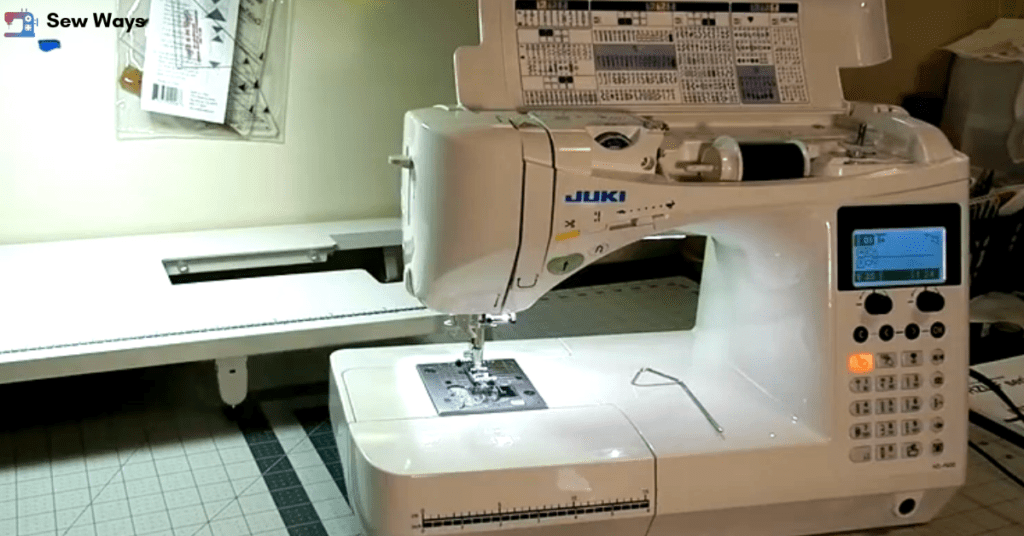 Juki HZL F600 has a plain and simple design but one that is well-thought-out. Almost the entirety of the right arm is occupied with a large LCD and button control panel. The panel includes a large number of buttons which can be intimidating even for professionals. But each button has instructions written on it. Beneath the top flap, the commands are written for different patterns which can be executed via these buttons.
Furthermore, it is a full-size machine with a throat space as wide as 8 inches. It enables all sorts of quilting including Free Motion, English Paper Piecing, Patchwork, and Applique. Handle stretches along the entire length of the machine which makes it convenient to lift and transport. The edges are smoothened to make it ergonomic and prevent strain on the hands. 
It features an all-metallic construction which brings unparalleled strength to the structure. All the internal components are tightly held in place and do not make any noise when the machine is in use. The machine is strong enough to withstand all sorts of wear and tear users might offer. While the metal brings strength to the machine it also makes this machine a bit bulky. It is not a kind of machine that can be taken to sewing classes or traveled with frequently.
Juki HZL F600 has grooves debossed onto the body that guides the way for thread and prevent it from sticking out. Spools have a designated area under the top flap that keeps them secure and prevents it dust and accidental spillage. Inserting the spool and threading the machine is super easy as the entire path is coded. A thread cutter is also available at the side of the machine to make things even more convenient.
Performance : Blistering Fast & Reliable
Juki HZL F600 computerized sewing/quilting machine uses a very powerful and capable motor. It can deliver massive 900 stitches/minute. It can be intimidating at first but as users get a hold of it the productivity increases by many folds. Best part? While it is super-fast it does not produce much noise. In fact, it is one of the quietest machines you can get. The speed can be slowed all the way down to 80 SPM if you find it too fast.
Furthermore, the box feed technology offers users more control and accuracy. It holds delicate fabrics like silk, polyester, and rayon tightly in place so the users do not have to overcontrol. The mechanism of Juki's box feed is a little different as it moves in box motion instead of conventional oval motion. It not only prevents slippage but also avoids shrinkage of the light fabrics. Moreover, it handles thick fabrics pretty easily.
Juki F600 Review : Features That Make It Stand Out
F600 was released as the flagship model of Juki back in 2014. Hence, it is one of their most feature-rich models. But what sets this machine apart is not even a single feature in it is a gimmick. All of them are well-thought-out and improve the overall performance of the machine. Let's take a look at them.
The number of Stitch Pattern
Most professional machines offer about 100-120 stitch patterns which is good enough for most people. But Juki F600 turns it up a notch and provides a whopping 225 patterns. One can argue that most people would not even use half of them but having such an option can compel the users to be a little creative.
The patterns can be selected via executing commands on the control panel. These commands are printed on the bottom of the top flap. To make things convenient Juki has separated 10 popular designs from these patterns which can be selected with a push of a button. Applique and Blanket stitch are present in these 10 designs.
Electronic Buttonholes
A perfectly crafted buttonhole can distinguish a great design from an average one. Lack of symmetry in buttonholes can compromise the fineness of the entire design. With F600, users would not have to experience it thanks to electronic buttonholes. Juki has combined industrial and modern technology to produce this mechanism.
The technology measures the fabric on the sides and evenly sew buttonholes on the left and right. There are 16 buttonhole options users can choose from each designed for a particular kind of fabric. You can also adjust the width of buttonholes without changing the length of stitch size. You can make thin or wide buttons on thick fabrics without compromising the strength of the stitches.      
Hence, no matter what type of fabric users are sewing they will always have perfect buttonholes on them.
Convenient Bobbin
Be it threading or inserting the bobbin, it has never been easier. The machine offers a drop-in bobbin mechanism that can be accessed via the removal of a transparent flap. All you have to do is to drop it in and the machine will automatically adjust it. Plus, the bobbin also has a cutter that can be used to cut the excess thread. Unlike most machines, users do not have to pull the thread out and pass it beneath the needle. The machine does it on its own.
Threading a bobbin is even easier as there is a special motor dedicated to it. Users only have to place the bobbin pin on the dedicated area and press the peddle. The bobbin will stop winding and stop when it is completed. A tiny blade is also available there to cut the extended piece of thread. The cherry on top? The entire process practically does not make any sound.
You can also sew and thread the bobbin at the same time by just pushing the lever. This feature is not available even in the latest models of some brands.
Automatic Needle Threading
Automatic needle threading is not surprising in the premium machines but the effectiveness and smoothness that F600 offers certainly stand apart. As the mechanism is based on a spring system most machines never get it right and the thread often pops out. However, Juki has learned a trick as it never misses the needle and always offers smooth operations. Frankly, it is amongst best automatic threaders ever installed on the sewing machine.
Tension Settings
Optimizing the tension setting is key to designing strong stitching. Each fabric has different tension requirements and not everyone is able to adjust it manually. F600 offers a solution to it with automatic tension settings. It adjusts the settings according to the fabric that is being stitched so the users always get strong and strengthened stitch.
Users who like to adjust the setting on their own have nothing to worry about as a manual adjustment option is also available. The dial is built on the right side of the machine to provide you with complete control.
Needle and Stitch Adjustment
F600 offers variable needle adjustment so the users can adjust it anywhere they prefer. It is not unique but the liberty to move the position of the entire pattern is certainly peculiar. Users can taper zigzag stitching on all parts of fabrics to create a perfect decorative design, applique, and much more.
LED Lights
The illuminated sewing area is not just crucial to designing fabric, it is also important to prevent accidents. While the professionals usually work during the daytime in excess of sunlight enthusiasts do not have this luxury owing to their other commitments. Hence, most people use lamps and other lights to brighten up the area.
With F600, there is no need for external light as it comes with two lights of its own. The lights keep the entire machine illuminated which offers great assistance to users.
Built-in Memory
Juki F600 can store up to 70 patterns in its memory. So, the users do not have to adjust the settings every time they start stitching. They can set any of these patterns with a simple press of a button. 
Juki HZL F600 Accessories
Juki's F600 comes with a ton of accessories to help the users with every sewing need. The package includes an army of the presser foot, so the users can select what suits them the best. Besides these, accessories include:
Hardcase
Wide Table
Knee Lift Lever
4 Bobbins
Eyelet Punch
Quilt Guide
Multiple spool caps
Small screwdrivers
Auxiliary spool pin
Seam ripper
Twin needle
Here is a comprehensive video to learn more about juki hzl f600 computerized sewing and quilting machine about features we explained above.
Juki F600 Problems – Things That We Wish Were Better
While the F600 is overall a great machine and offers a lot to its users but certain things could have been better. Let's look at the Juki F600 Problems:
Presser Foot Jams
F600 has a feature where the presser foot comes down at the start and end of the stitch to lock it. But sometimes the foot becomes jammed and red lights appear on the arm of the machine. Moreover, you will have to be patient as it can a while to start working again which can be a problem for professional quilters. However, it can be resolved by restarting the machine but it can be a nuisance nonetheless.
Expensive
Juki F600 is one of the most expensive machines that are available in the market. However, there has been a considerable price decrement over the years it still remains an expensive machine. Newer machines with somewhat similar features are dropping on the market every year which can dent the popularity of machines.
Not Suitable for Beginners
It goes without saying the machine is too advanced for people who have just started sewing. Most people who dabble with sewing would not even need most of the features that the machine has to offer. Hence, spending a decent sum of money does not make sense for them.
Furthermore, the commands and functions are too complex for beginners. It also has quite a weight to it which would not be comfortable for people to take it to sewing classes.
Bottom Line – Juki HZL F600 Review
Juki HZL is an exceptional machine worthy of giving competition to even the latest models on the market. It offers a solid structure with premium performance designed to fulfill every requirement of professionals and enthusiasts. The machine is suitable for sewing and quilters alike and there are features dedicated to them. It is not a sewing machine that can also quilt but a true quilting and sewing machine.
While it is mostly good the machine does have some shortcomings. Users can work around most of them but the price tag is a little harder to ignore. While it justifies the price, it is simply too much for most people to afford. So, like most Juki exceeding HZL-f600 reviews, our Juki HZL f600 review also concludes that it is a brilliant machine for those that can afford it. And all things considered, it makes an excellent option.
We hope our Juki HZL f600 review has been helpful. Thank you!