Working with a Sewing machine is a fun hobby to create, mend and form different things like accessories, household decor, and clothing. It lets you explore creative ideas and allows you to get overpriced clothing at half price. Investing in a good sewing machine is a wise choice, but it is equally essential to get the one that is easy to operate and handy. The market offers you well-known brands that provide you with a sewing machine having different features.
The right choice depends upon the use of the user. If you are a beginner and use a machine just for house sewing, you need a simple sewing machine that performs simple stitching tasks. If you want to use a sewing machine for professional use, look for more complex features and many built-in stitching options. In this article, you will read about the Singer Tradition 2277 review, its parts, accessories, how to thread a Singer tradition sewing machine, and its pros and cons.
Singer Tradition 2277 Review
Singer 2277 is one of the best sewing machines in the market that offer you unique features at affordable prices. Singer tradition essential sewing machines work best for the beginner as well as for the occasional home sewist. When we look at its design, the Singer sewing machine 2277 is beautiful, compact, and easy to use. It comes with all the essential features necessary for basic and advanced sewing.
Singer 2277 Tradition-sewing machine is best for beginners because it does not have complex procedures, and anyone can run it within a few minutes. It lets you manually operate some of the important features that are the backbone of the sewing process.
Design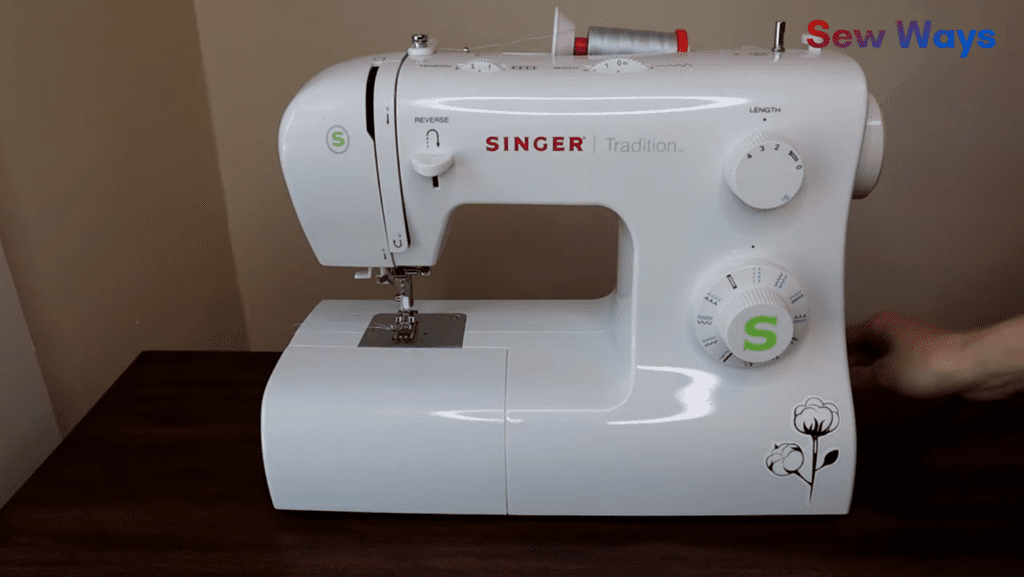 The Singer Tradition 2277 sewing machine is made of metal and has a white color with lime-green lines on a dial and a front hub. It features a dial and lever that allow you to operate the machine in a reverse direction. In terms of size, Singer 2277 is so compact and handy. It is not much bigger, and the item comes in a 15 x 6,2 x 12 inches dimension. It has a 13.6 pounds weight that is easy to hold and carry from place to place. It is a corded-electric sewing machine that works at a speed of 350 rpm. It comes with 23-built in stitches that give you a high-end performance. It features a Front-loading bobbin which is sometimes referred to as a side-load bobbin.
Accessories
Singer Tradition 2277 comes with a Darning plate which is an opening from which the needle passes. A thread spool cap holder helps the thread intact on the machine and keeps the thread from breaking frequently. With this sewing machine, you will get a screwdriver that gives you the ease of repair and tightening of the screw. With its All-purpose foot, you can mend and perform general sewing on almost all types of fabrics. The width of the All-purpose foot will tell you about how deep the needle of the sewing machine can go.
The package includes a Buttonhole Foot that allows side to side and forward/backward movement of the sewing machine. With its Button Sewing Foot, you can easily sew the buttons with the help of a machine. It has a Zipper foot that allows the machine needle to move on thick surfaces like zip areas and other thick edges. The Singer 2277 Tradition sewing machine comes with an Edge guide that enables you to perform pintuck tasks and allows the sewing machine needle to perform quilting activities. Furthermore, this sewing machine provides you with class 15 bobbins, needles, a brush, foot control, and a manual to help you with the quick start process and perform the sewing activities efficiently.
Features
97-Stitching Application
Singer 2277 sewing machine features many stitching applications that range from basic to decorative and professional sewing. You will get the complete package in one machine. It is easy to select the stitches of your choice. On the stitch selection dial, all types of stitches are mentioned. You have to turn the dial, and you are good to go. This feature can come in handy involving the usage of sewing elastics in your coming DIY projects.
One-Step Automatic Buttonhole
Sewing a button by hand is a tiring and challenging task which is why Singer 2277 comes with a one-step buttonhole that allows you to sew buttons with the help of a sewing machine. It also helps you to use this machine on rugged and rough edges. Furthermore, It gives a smooth and sleek look to the button edges. This feature is best for beginners and helps them sew pants, quilted covers, and pintuck activities.
Automatic Needle Threader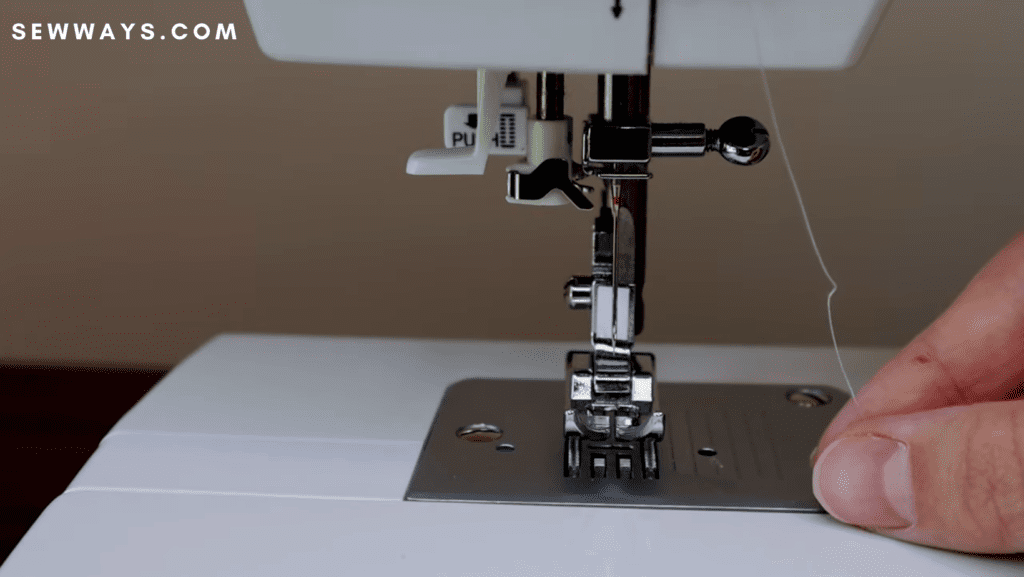 Sewing is not an easy task, but you can do it without any hassle once you are used to it. But if you have an eyesight problem or are older, then needle threading can be a big issue for you. Thanks to Singer 2277 sewing machine that has solved this problem with its Automatic sewing threader. I found it very easy to put up the thread at the right place. Effortless needle threading allows you to start your sewing activity without wasting much time.
Auto-Bobbin Threading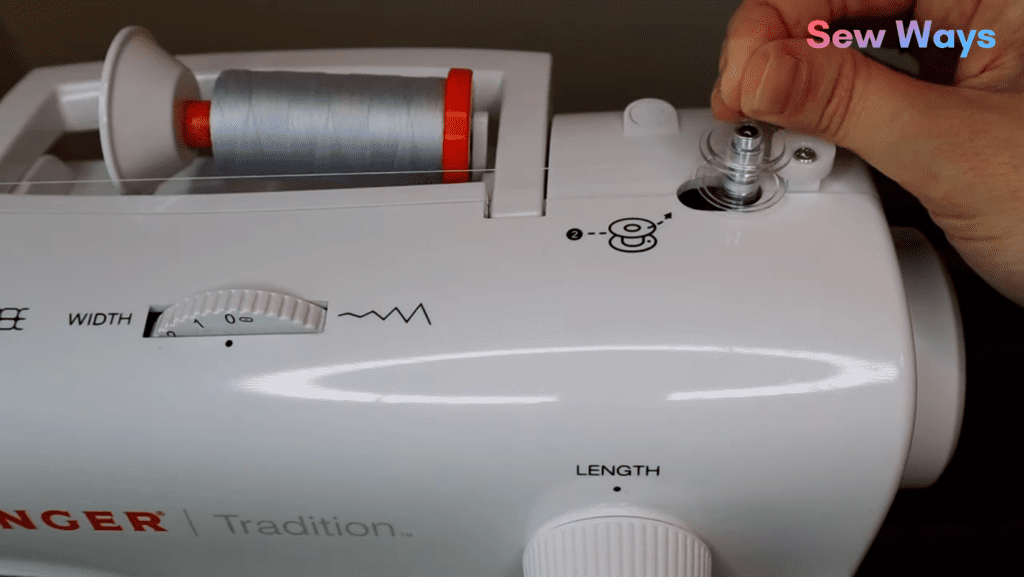 Bobbin threading takes a lot of time to wind the thread. Singer Tradition 2277 comes with a fantastic feature of automatic bobbin threading that saves your time by automatically winding the thread. By putting the bobbin in a slot, the machine will start winding the thread and will enable you to perform your sewing task.
Adjustable Stitch Length And Width
You can manually control the length and stitches of the Singer 2277 sewing machine. It gives you the freedom to choose between the long/short lengths and widths. The maximum size you can use on this sewing machine is 4mm, whereas the total width is 5mm. Longer stitch length and width allow you to work on heavier fabric, needles, and thread. In contrast, small stitch length and width are best for lightweight material, needle, and thread. I found it amazing while performing the sewing task on tough fabrics. The heavier fabric was easy to stitch with its considerable length and width.
Metallic Frame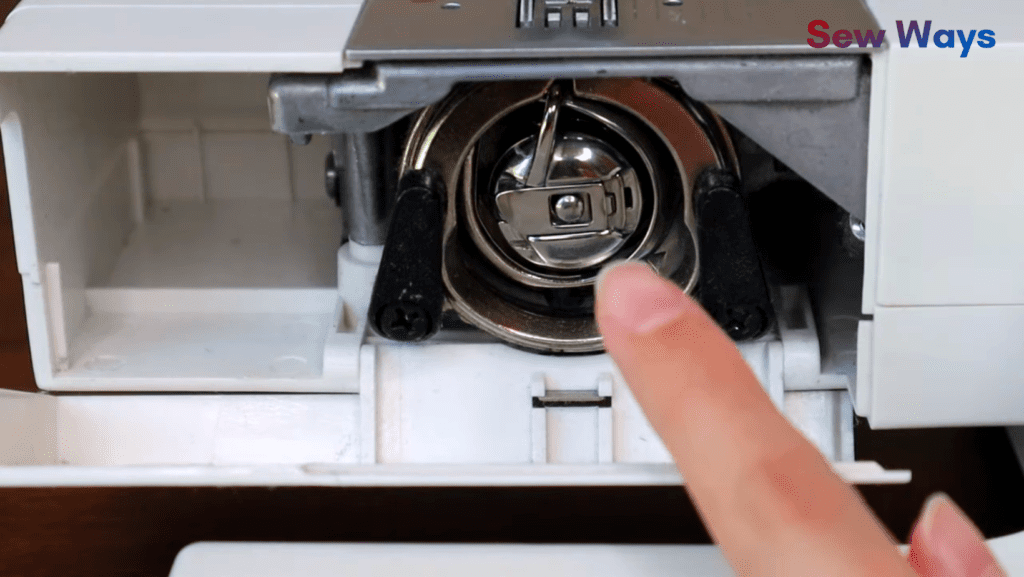 The construction of the sewing machine is an important feature. The outer side of the singer 2277 is made with plastic material, whereas the inner build is purely metallic that ensures the perfect alignment and durability of the sewing machine. After using it for several years, I have not repaired it once. Due to its challenging build, you will never face any issue of breaking or damage.
Key Benefits 
Easy Setup & Use
Singer 2277 Tradition sewing machine takes a minimal amount of time in setting up. The automatic bobbin allows you to wind the thread. After that, you have to place this near the needle plate and start threading the remaining thread. When the thread reaches the needle via tension rod, the automatic needle threader threads the needle up to the right place and allows you to start the sewing process immediately.
After setting up the Singer 2277 sewing machine, you can use it easily with three simple steps. You have to select the stitch of your choice from the stitch dial, select the length and width, and press the pedal to start your sewing activity. Singer 2277 is the best sewing machine for beginners that do not have any complex starting procedure.
Multi-Skilled
Singer 2277 is versatile in its functioning. It comes with 23 built-in and overall 97 stitch applications that make it easy for users to select the stitching of their choice. From primary seam to more advanced stitching, it has all the applications. I found this sewing machine efficient in sewing cuffs and hemming pairs of pants. You do not have to upgrade your sewing machine if you own Singer 2277 because it allows you to learn more about sewing skills.
Compact Design And Affordable
Singer 2277 is portable and compact that can be placed everywhere you want. It does not cover huge space and can be adjusted in a small area. I found a Singer 2277 sewing machine light in weight, and it was easy for me to carry and relocate it. You can also move this sewing machine from one room to another and can be transported via road.
With all these fantastic features, one can think that this sewing machine will be costly, but the Singer 2277 Tradition machine is not costly at all. It is budget-friendly and covers all the marvelous features for the ease of its users. It is an excellent choice for beginners. You can also gift it to your loved ones. It offers you a 2-years of warranty so you can buy it with confidence.
Known Issues
Thread Jams
I have sometimes faced the issue of machine jamming. It occurs due to the knotting of a bobbin thread. This thing might stop you in between your sewing activity and can frustrate you at times. It can also waste your time as you will stop your task and work on the thread tension.
Not for Thick Fabric
Singer 2277 Tradition works best on light to medium fabrics. You should not sew materials like wool and leather with this sewing machine as it might break the needle or jam the machine. For a heavier fabric, you should consider buying leather sewing machines.
How To Thread A Sewing Machine
To thread a Singer 2277 sewing machine, you will have to raise the needle and put the lever down. Pass the thread from the hook of the threader. Start moving the lever to the needle, and singer 2277 will be threaded. Singer 2277 comes with an automatic threader that saves your time and energy. It allows you to incorporate your sewing machine quickly. If you are a beginner or new to this feature, this might take some time to start, but you will thread it within a few minutes once you are familiar with this feature.
Conclusion
It was a detailed review of the Singer Tradition 2277 sewing machine. Keeping in mind all the features, benefits, and cons will help you consider purchasing this sewing machine. The benefits and features it provides are more than its cons, so it is suitable for you to buy a sewing machine with outstanding accessories and features.