While shopping people mostly look for a smooth, shiny, and soft fabric that has a luxurious, and beautiful look. There are many fabrics available in the market, which makes it difficult to choose the desired one. Well, as per my suggestion if you are looking for something glossy and delicate then you should buy satin fabric.
If you are one who does not know anything about this fabric then you need to read the article for the complete guide. In this article you will get to know what satin is, the types of satin, its characteristics, and much more about this fabric. Before you buy satin fabric it is necessary that you have proper knowledge about it so as to get the suitable and required fabric.
What is Satin Fabric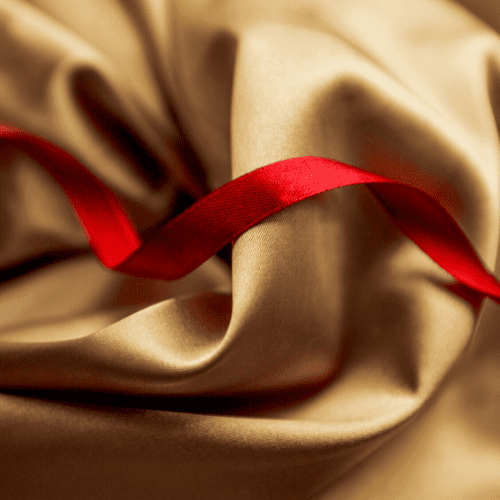 Satin is not a raw material, but basically a type of weave. This fabric is known for its nobility and royalty. Also, many people use this for making wedding dresses, bridal dresses, and even for making gowns. Because of the shiny and soft look, it provides a majestic look and puts a great impression on the other person. It is shiny from one side, and dull from another side. Well, in this article you will get to know about the different characteristics of satin so that you can buy it without any doubts.
What is Satin Weave?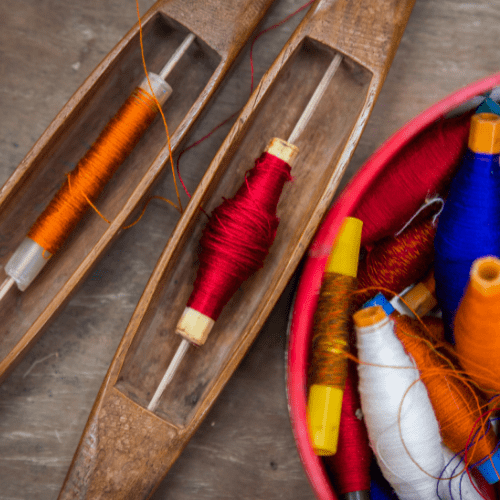 Satin weave is basically the weft and warp yarns of intersection between the vertical, and horizontal thread. The four or more threads are being overlapped with each other as one wrap goes on the other weft thread. Basically, this type of pattern is weaved so that the pattern does not disturb the shine and light of each thread. This pattern provides a shinier effect on its front side while a bit darker effect on its backside.
What are the Characteristics of Satin Fabric?
Satin weaves are very flexible in comparison to plain weaves. The flexibility of its weaving makes it more beautiful and shiny than other simple weaving fabrics. Also, it provides the beautiful and smooth finishing of this cloth. Following are the characteristics of Satin Fabric.
1. Shiny Front
As discussed early, Satin fabric is very shiny, glossy, and bright from its front side. The organization of weft and warp threads is done in a way that its backside is a bit darker than its front side. Because of its perfect thread work, the fabric feels so good and soft.
2. Durable
The thread weaving is done in a way that makes the fabric stronger than the other plain weave fabric. The long filament fibers are woven so amazingly that it makes the fabric tough and durable. Durable and reliable fabric can be used for a longer period of time without getting damaged.
3. Beautiful Drape
The pliability and concentration of fiber provide a beautiful drape and make the fabric softer. Also, the Satin weaves are created so perfectly that it becomes soft and easy to wear without causing any itching. It is an ideal fabric for wearing and also can be used for curtains.
4. Wrinkle-resistant
The best thing about this fabric is that it is wrinkle-resistant. It remains plain and smooth after hours of using it. It is all because of its soft and smooth fabric, which keeps it plain for a longer period of time without providing a rough look.
5. Difficult to Handle
Well, this fabric is very soft and slippery, which makes it difficult to work with. It requires a lot of effort to handle this fabric during the stitching, and sewing process. But, other than this it is a delicate fabric that surely everyone wants to wear.
What Are Different Types Of Satin?
Well, there are varieties of Satin fabric available in the market, which depends upon its formation and type of Satin weaved. Here are the different types of Satin so that you can select your accordingly to get suitable, and desired sewing results.
Antique: Antique Satin is basically a little dark type of fabric that is mostly used for curtains and upholstery.
Charmeuse: This Satin is highly lustrous on one side and dulls on the other side. It is mostly used for dressing.
Baronet: It is made from cotton and rayon, which is truly a delicate fabric.
Crepe-back: This fabric is commonly used for dressing, and it is a reversible fabric.
Lucent: Lucent is basically Sateen, which is a height luster and gives double shade. It is commonly used for bags, clothes, and fashion accessories.
Monroe: It is a medium weight sateen, which is also used for bags, and clothes.
Messaline: Messaline is very soft and shiny Satin, which is commonly used for making clothes.
Duchess: This type of Satin is heavy and stiff, which is used for bridal dressing and can be dyed in solid colors.
Slipper: Well, it is a matte surface Satin, which is light in weight and is mainly used for craftwork.
Panne: Panne is composed of a high level of luster, which is best for evening wear and dress-making.
Polysatin: Polysatin is being prepared from polyester threads.
How is Satin Used?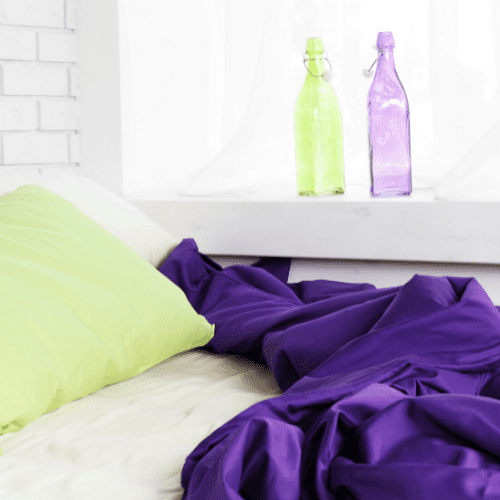 Satin is commonly used for dressing but, other than this it is used for many purposes like fashion, and interior decoration. Also, it is woven in a way that is highly demanding and popular among people. People use it for various things like;
Upholstery: Satin is very widely used for Upholstery like for decorating furniture stuff, which includes chairs, pillow covers, and for other cushioned furniture.
Dresses: It is highly used for dresses like bridal dresses and gowns because of its beautiful drape.
Footwear: Well, it is the best choice for shoe designers as they use it for designing heels, and slippers.
Bedsheets: Satin is also used for bed linens because of its flexibility and softness.
Fashion Accessories: Some clutches and bags are also made up of Satin and give a pretty look.
How to Sew Satin?
There are simple and basic steps for sewing Satin fabric. The fabric is so slippery so you have to cut one layer at a time. Secondly, you have to use a suitable size needle and the right color thread for stitching. You have to handle tension easily, and be aware of the water spots.
You should take care that while sewing you have to sew the cloth on a smooth surface. The best thing is to use a wide allowance for the best finishing. Lastly, you should be very careful while pining the cloth as it is quite slippery to get the proper and best sewing results.
Frequently Asked Questions (FAQs) about Satin Fabric
What Is The Difference Between Satin and Sateen?
The main difference between Satin and sateen is that the sateen is made up of short and basic fiber while Satin is made up of weave patterns. Sateen has staple fibers, which means that it lacks long and continuous organization of fibers. The long fibers are known as the filament fibers.
what is the difference between satin and silk fabric?
Silk is basically the name of the fiber whereas, Satin is the name of the textile weave, and only these things differentiate them. Satin is made up of long filaments while on the other hand silk is not.
What are the properties of satin fabric?
Satin is a very distinctive, smooth, and shiny fabric, which is shiny matte from one side, and dull from the other side. Its beautiful appearance is very appealing and provides a luxurious feel. Well, it is a bit slippery, which is difficult to handle while sewing.
How would you describe satin fabric?
The Satin fabric is very shiny, smooth, soft, delicate, and elastic fabric. Also, there is a unique technique for sewing Satin fabric.
Is satin a good fabric?
Yes, Satin is a very strong, durable, and reliable fabric, which does not wrinkle-resistant. Polyester Satin does not wrinkle easily like other fabrics.
Conclusion
I hope that this guidance about Satin Fabric will make your selection quite easy. Now, you can take Satin fabric according to your use. From a variety of Satin types, you can buy the one which is best for fulling your purpose. Its shiny and soft fabric provides an amazing feel and look. Go ahead and get your Satin fabric and give it the delicate look.