Have you ever wondered how much time, energy, and hard work goes into making sewing beautiful embroidery patterns on fabric? The threads intertwined and sewed into the threads of the fabric are a whole art and require consistency and proper adjustment to bring about accurate and clean results. It is thus important to have a good quality hoop in your hand where you can trap the surface of the fabric meant for embroidery.
A hoop gives you a flat and immovable surface of the fabric so that you can stitch the embroidery threads into it in either by hand or with the help of an embroidery machine. If you are a beginner and want to learn embroidery you will need first-hand information about embroidery hoops so that you don't end up buying the wrong sizes and types. This article offers a guide for embroidery hoops [sizes, types, materials & shapes] so let's begin.
What are Embroidery Hoops And Their Uses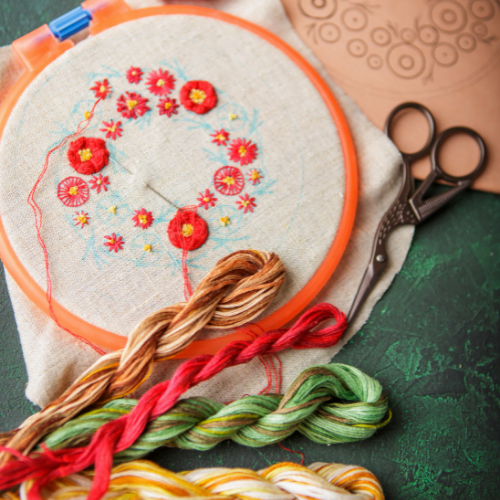 Embroidery hoops are two circular or elliptical frames one bigger and the other equal to the inner diameter of the bigger one. These hoops are meant to trap the fabric tightly inside of them to make doing embroidery convenient. The fabric is meant to be spread evenly on the smaller hoop and then you fix the larger hoop on top of it. The larger one has an opened end that has screws allowing you to tighten it as you want. Embroidery hoops are centuries old and have been used widely worldwide for the same purpose.
Originally they were made up of wood, bone, or ivory but now you can also find plastic hoops. We still have wooden hoops in the market and they are considered extremely durable. The embroidery hoop is used to conveniently do hand embroidery or machine embroidery. It keeps the fabric surface taught so that you can have precise, clean, and accurate embroidery results. Read the next section which offers a guide for embroidery hoops.
Embroidery Hoops Types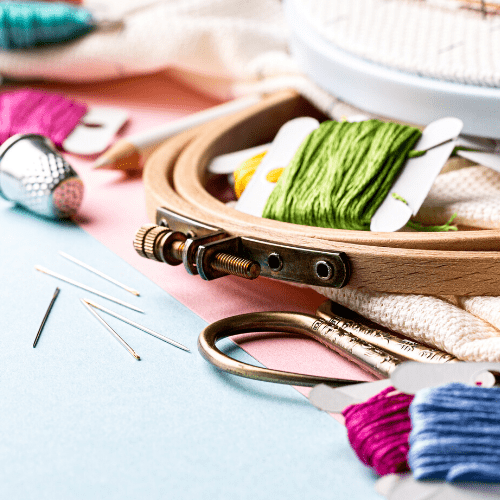 The types of embroidery hoops aren't specific to one and two only. Instead, many of its types are widely used in today's era. The invention of different types of embroidery hoops depends on the need of people, the shifts in fashion, and the invention of new designs and patterns. Here are some of the embroidery hoops types for your understanding.
Round/Elliptical Embroidery Hoops
The first and the most common type of embroidery hoops are the round and elliptical ones. The people who have never seen other types are very much familiar with these types. These types of hoops are traditional and apt for hand embroideries. These are very convenient because they are used to hold the fabric equally tight from all sides.
Square Embroidery Hoops
The second type is the square embroidery hoops that are also very common among the people who do cross-stitch and punch needle embroidery. As the name suggests, the hoops have a square structure. They also stretch and hold the fabric tightly from all the sides which makes doing embroidery extremely convenient.
Triangular Embroidery Hoops
Triangle embroidery hoops have three sides but they are smooth and not sharp. These hoop types also hold the fabric taught between them and can be used to sew triangle designs on the fabric. They are made up of wood or plastic and can be purchased in various sizes depending upon the size and nature of your design and project.
Round Wooden Hoops With Stand
These hoops consist of an adjustable stand (wooden or iron) on top of which a round wooden hoop is attached that can be rotated at a 360-degree angle. Such types of hoops are very comfortable since you get a fixed working place. You can comfortably sit and adjust the size of the stand according to your convenience and rotate the hoops as you wish. These hoops can be used for all kinds of embroidery, especially aari and tambour embroidery.
Slate Embroidery Frame/ Adda
Slate embroidery frames were originated centuries ago and are still in use for making precise, large, and intricate patterns and designs on a piece of fabric. This type of embroidery frame consists of 4 wooden bars connected in a square or rectangular shape. Two sidebars are called rollers bars containing holes that are used to hold the fabric temporarily sewn with threads. The roller bars are used to tighten the fabric. These frames are extremely convenient for carrying large embroidery projects using both hands.
How To Use An Embroidery Hoop?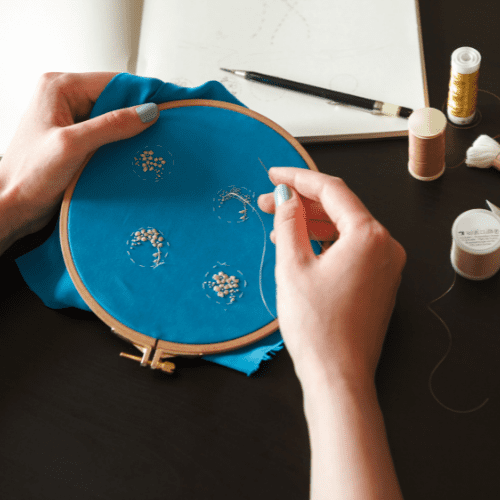 Using an embroidery hoop isn't as complicated as doing embroidery. You just need to slide in the fabric on the smaller hoop and tighten the larger hoop on top of the fabric. You can tighten the larger hoop through the screws to increase tension in the fabric so that it can be easier to stitch any design you wish. The process goes for all kinds of embroidery hoops, however, you just need to know how to handle certain fabrics and how taught a fabric should be. Here is a detailed video link that will help you with how to use an embroidery hoop.
Embroidery Hoop Sizes, Material, And Shapes
Embroidery hoops come in different shapes and sizes depending upon the nature of your project and the size of the design. In addition to that, you will also find hoops made up of different materials such as plastic. wooden hoops are the most traditional ones. There were also bone and ivory hoops but they aren't available nowadays commonly. The most common embroidery hoops are made up of wood, and plastic. The next section is about embroidery hoops size charts and shapes.
Machine Embroidery Hoops Size Chart
Here is a machine embroidery hoop size chart that is present in almost all modern embroidery machines. You can find hand embroidery hoops in sizes 14, 13, 11, 10, 9, 8, 7, 6, 5, and 4 inches respectively. The hoop sizes may vary from brand to brand, in embroidery machines, however, most of them are universal sizes.
Embroidery Hoops Shapes
You can find embroidery hoops in many shapes. There are circular hoops, elliptical/oval hoops, square hoops, rectangle, and triangle hoops. You can purchase any shape you wish to depending on the type of embroidery you want to do. For hand embroidery, you can go for circular, rectangular, and square hoops. They are best for doing cross-stitch and punch needlework. Square and rectangle hoops also go best with the embroidery machines. Triangle hoops can be used to make triangular designs whereas oval hoops are used for elongated designs.
Embroidery Hoop Sizes For Brother, Bernina & Janome Machines
The embroidery hoops aren't just for hand embroidery, you now have embroidery machines that allow you to do large-scale embroidery with ultimate precision. Embroidery machines have a wider embroidery field where you can attach a hoop to make the project convenient, more accurate, and faster. Various embroidery machines offer different sizes of embroidery hoops to meet the needs of people. Here are some of the famous machines and the hoop sizes they offer.
Brother
Brother is the most popular machine when it comes to embroidery, sewing, and quilting. It is popular for its performance, durability, and versatility. Some of their embroidery machines, their available hoop sizes, and total embroidery area are as follows.
SE630 by Brother has 480 built-in designs, and 4×4 inches embroidery field so it can accommodate 4×4 inches hoops.
Essence Innove In-VM5200 by Brother, 318 built-in embroidery designs, 8×12 inches maximum embroidery field, can accommodate 4×4 till 8×12 inches hoops.
Innove-is NQ1700E by Brother with 258 built-in embroidery designs. It consists of 6×10 inches of embroidery field that accommodates hoops sizes, 4×4, 5×5, 5×7, 6×9, and 6×10 inches respectively.
Bernina
Bernina is a Swiss sewing and embroidery machines company that manufactures some of the finest and most durable machines. Their sewing and embroidery machines are often adorned with Swarovski crystals which makes them class apart from some of their famous embroidery machines, and their hoops sizes are mentioned below.
Bernina 880 Plus Crystal edition with 100×130 mm embroidery area for medium embroidery hoops, and 145x255mm oval hoops for larger embroidery designs.
Bernina 16 Plus with an extra-large embroidery field accommodating up to 400x350mm hoops sizes.
790 Plus SE by Bernina sewing, embroidery, and quilting machine with maximum hoop functionality of 15.7×8.3 inches and 15.7×10.2 inches hoop functionality for larger designs.
Janome
Janome is another famous and incredible brand that makes the best sewing, quilting, and embroidery machines. Their machines are known for large-scale and commercial projects. Here are some of their top famous embroidery machines and their hoop size compatibility.
Memory Craft 550E features a vast embroidery arm and 180 built-in stitches. This embroidery machine by Janome has a hoop functionality of up to 7.9×14.2 inches maximum.
Skyline S9, featuring 250 built-in designs and 40 exclusive designs by Anna Maria Horner. It offers a maximum of 6.7×7.9 inches hoop size compatibility.
Memorycraft 15000, featuring 480 built-in designs, 510 built-in stitches, and 9.1×11.8 inches of maximum embroidery designs and hoop functionality.
Differences Between Embroidery Hoops vs Quilting Hoops
Embroidery and quilting hoops are tools used to do embroidery on fabric and quilting. These hoops make both the projects extremely convenient and faster. These hoops may look alike but they aren't entirely the same. The main difference between them arises in the depth of these hoops. Quilting hoops have a depth of ¾ inch to 1 inch however, the embroidery hoops have a depth of ½ inch to 1 inch. It is because quilting hoops are made to hold thicker and heavier fabric while embroidery hoops hold the thinner and lighter fabric.
Frequently Asked Questions (FAQs) About Embroidery Hoops
What is a cross-stitch hoop?
A cross stitch hoop is no less than a regular circular or square hoop. As the name suggests, cross-stitch embroidery consists of stitches in an X pattern joining together intricately to make beautiful patterns. You can do that on any type of hoop provided it keeps the fabric taught. However, most people prefer square and circular hoops for doing cross-stitch embroidery.
How to use an embroidery hoop?
Embroidery hoops are simple to use, you just need to learn to do embroidery. It consists of two rings, one larger and the other smaller as you know. You need to slide the fabric on the smaller hoop and tighten the larger hoop on top of the fabric and the smaller hoops. Use the screws on the bigger ring to tighten it further. This process will make the fabric taught for convenient embroidering.
Is a wooden embroidery hoop better than the plastic one?
You cannot tell whether a wooden hoop is better or the plastic one because both have their purposes. Wooden embroidery hoops are primarily used for hand embroidery whereas plastic ones are used for machine embroidery. Both are durable, however, the wooden embroidery hoops are more eco-friendly.
The Bottom Line
Embroidery hoops offer a convenient way of handling any type of fabric on which you want to make beautiful embroidery patterns. It keeps the fabric taught be it for hand embroidery or machine embroidery so that you can have cleaner and more precise designs. This article offers a detailed guide for embroidery hoops. You will learn about the shapes, sizes, and types of different embroidery hoops which you can use in your embroidery venture.