Styling your outfit is a big deal as it determines your body language, personality, and wealth status! You need to have a good fashion sense and creativity to make even old garments look better while considering that buttons play an important role in every costume. Get to know about different types of buttons for clothes to dress like a pro!
Buttons are of different types depending upon their suitability for pants or shirts, designs, sewing type, shape, size, and more! In this article, I'll share twelve types of buttons with pictures so that you can give an eye-catching look to everyday clothing. Let's begin!
Buttons By Shape
Flat Buttons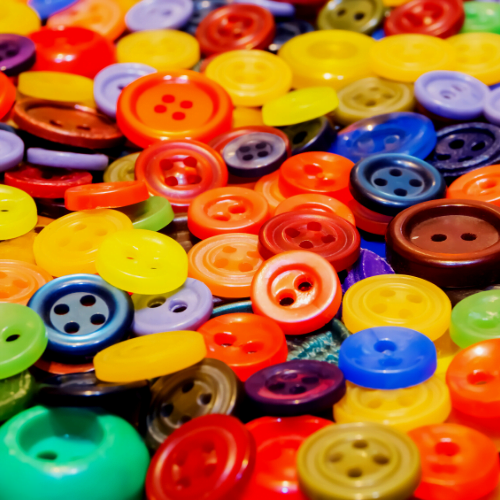 Flat buttons are the most elementary form of buttons, with four holes and a flat surface. You can sew them by hand or by sewing machine, with a thread. Flat buttons are usually made of glass, wood, ceramic, or metal, and come in various sizes and colors. That's why you can choose them for your favorite dress shirt, skirt, or even handbag as they look classy and go with almost every apparel. The primary advantage of choosing flat buttons is their versatility and durability as they last longer than other fancy or modern buttons.
Unlike rare button types, flat buttons are quite popular in all marketplaces. With the advancement in the fashion industry, the flat buttons have also been evolved into fancy-looking ones, and now come with ridges, folds, and other designs. They save you from the effort of finding out buttons in the online or physical market as flat buttons are readily available.
Shank Buttons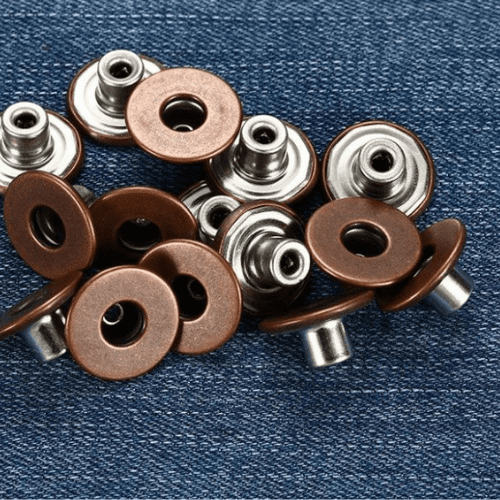 Shank is another popular type of button that is differentiated based on a loop at its back. It lacks holes over the surface; you can sew it by passing thread from the rear coil section over your favorite garments. It goes well with frocks and over the sleeves and raises the overall look and design of your dress. Buttons are not stuck to fabric but lifted a bit from the surface to provide an elegant and classical look. In consideration of that, shank buttons look very minimal yet beautiful with no thread shown apparently.
Snap Buttons / Stud Buttons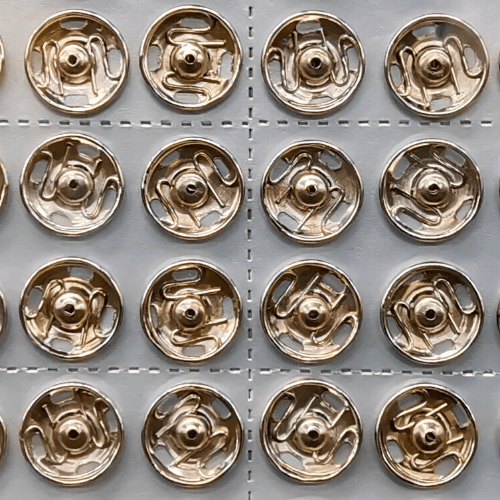 Here come the metal buttons for clothing, called "Stud buttons, Studs or Snap buttons"! These buttons are also known as snap fasteners or tack buttons and are commonly for fastening fabrics like jeans, cotton, and more. Stud buttons include two halves: a grooved part and a hammered part. You need to sew both in a face-to-face pattern—like the grooved section, push up the fabric and fasten it to the hammered part. I find these interlocking buttons great for mini purses and handbags too as they secure the essentials.
Toggles / Toggle Buttons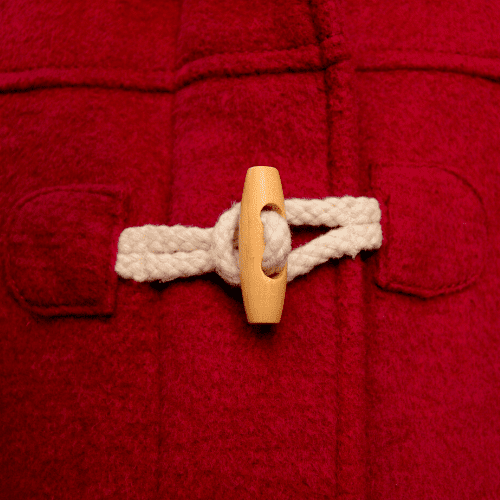 Toggles are skinny, conical long buttons with holes for fastening by hands only. The elongated design helps them to slip through round, square, or oval spaces in the fabric. If you want to give your garments a unique yet attractive look, toggles are truly the best for their decent appearance and easy application.
Toggles are made of both plastic and wood, and available in many colors and patterns so you can choose one that suits your dress. I found toggles great for front open long coats or dresses as they loosely lock them and give a unique and decent finish. You can also use toggle buttons in arts and crafts projects as they are affordable, versatile yet attractive.
Decorative Buttons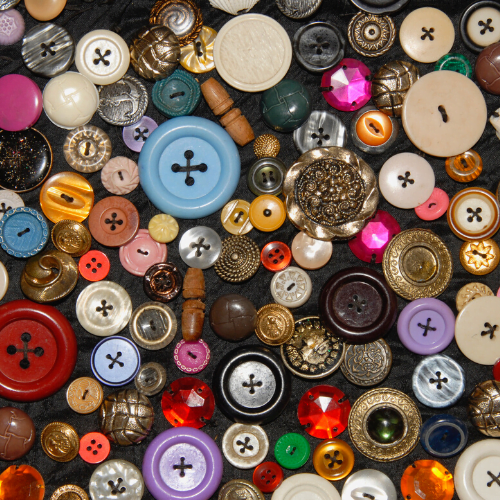 As the name suggests, decorative buttons are used to make garments fancier and prettier. They come in a variety of sizes, shapes, designs, and colors, and are made with different materials, usually plastic. Common designs of decorative buttons are pearls, shells, flowers, or circles, which you can sew on your frocks, skirts, jeans, handbags, shirts, sleeves, bottoms, and more.
Decorative buttons are most versatile, you can use them for arts and craft projects, for decoration stuff like mobile phone covers, or to convert your pre-loved items into new ones like jeans, bags, and more. There are tons of ideas available about how to use decorating buttons online, so you better check those out!
Lapel Buttons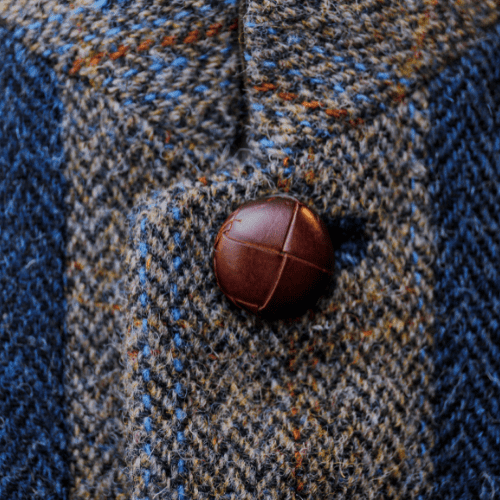 Lapels are metallic thin buttons with sculptures logos. These buttons are used to advertise your brand or party, so are popular among volunteers, contestants, or political contenders, who're representing a particular group, company, party, or show. Lapel has a pointed back through which you can attach them to any fabric permanently. I found lapels mostly in dull golden color and round shape, however, size varies in diameter. You can purchase logo lapels or get customized ones from different stores in the market.
Buttons By Material
Glass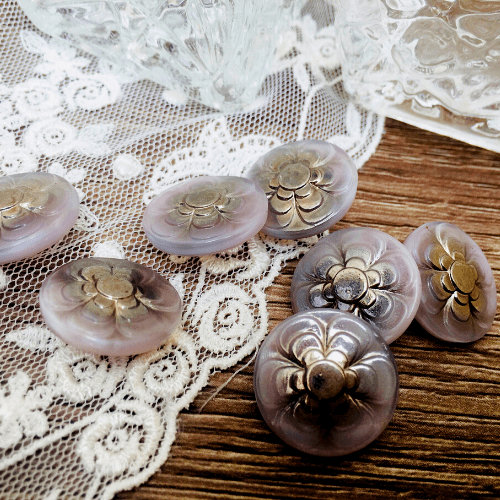 Most people think of glass buttons as transparent or neutral ones, but these are available in various colors, designs, sizes, and shapes. Glass only refers to the material used in their making, otherwise, you'll get a variety in glass buttons. In a word, glass buttons are quite common in the fashion market, and are used to enhance the visuals and grace of any garment. Glass buttons are usually used for women-oriented stuff only.
In contrast to other materials used in making different kinds of buttons, glass is typically shinier and prettier, and it provides a soft, minimal yet fragile appearance to any fabric. With the flip of a coin, glass is prone to breakage and costs you more than plastic or cloth buttons. So it's upto you, like if you can deal with sensitive things, go with these elegant, eye-catching, formal-looking buttons, otherwise, find something else!
Metal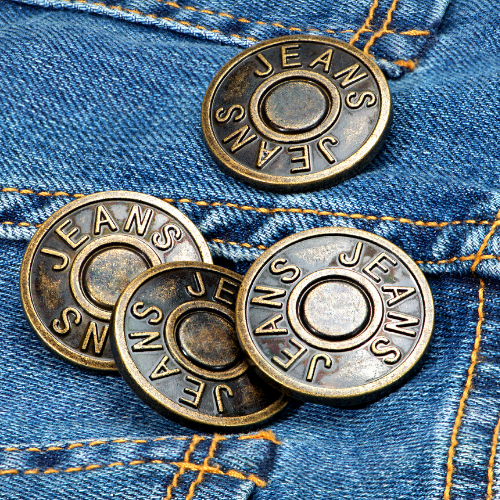 Metal buttons are most popular and easily available in markets. Stainless steel and tin are usually used in the making of metallic buttons for their lightweight, resistance, and durability. Based on designs, the metal buttons are of many types: smooth buttons, ridged buttons, imprinted buttons, textures buttons, and hammered buttons. Feel free to choose one that suits your outfit!
You'll find metal buttons in all sizes and shapes, small to large and round to square, however, the colors are limited to gold, silver, and brass only. In the context of appearance, metal buttons look classy and aesthetic but make sure to attach buttons with distance as they're heavier than plastic ones, and might feel uncomfortable afterward.
Leather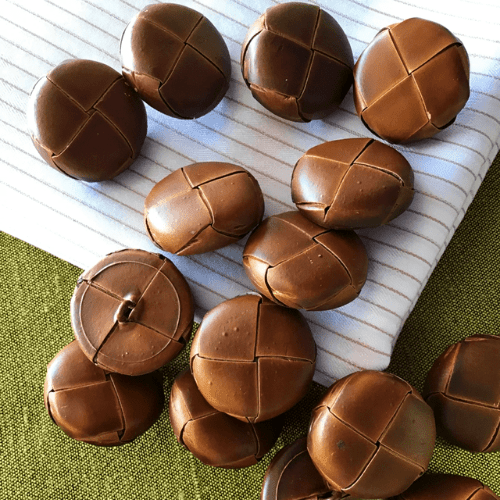 Leather is of two kinds: (1) genuine leather or pure leather, as the name indicates it doesn't include impurities, and (2) faux leather, which is treated with polyester and wax. Faux leather is more affordable and easily available than pure leather, but real leather looks valuable and is long-lasting and unique. Other leather textures include woven leather, top-stitched leather, mottled leather, suede leather, and patent leather.
Leather buttons are available in limited sizes, shapes, and colors including round, rectangle, oval, or square, flat or protruded, black, pale skin, or beige, soft textured, or irregular lines. It is difficult to pick a leather button as all look almost similar, so taking fabric or garment with you helps you in choosing the right one. In a nutshell, leather buttons are among types of sewing buttons that look elegant, classy, and minimalistic.
Cloth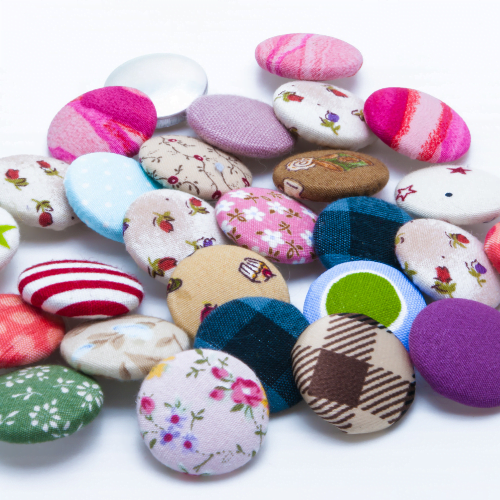 Cloth or fabric buttons are quite popular in the fashion industry and are used for designing different garments and accessories. These buttons are available in different sizes, shapes, designs, colors, and patterns. Do you know what is the biggest advantage of cloth buttons? You can create your fabric buttons using a cloth piece or an old metal button. For step to step instructions, follow the videos or related content online.
The cloth buttons are initially metallic ones, which are coated with a beautiful fabric to give nice finishing. These buttons not only look mesmerizing but are more affordable than other choices on this list. I love the matching fabric buttons over frocks, skirts, pants, and more. While blossom patterns, striped, and neutral colors are also popular in fabric buttons. You can find those in any nearby store or online markets, however, if you won't find any, create one!
Polyester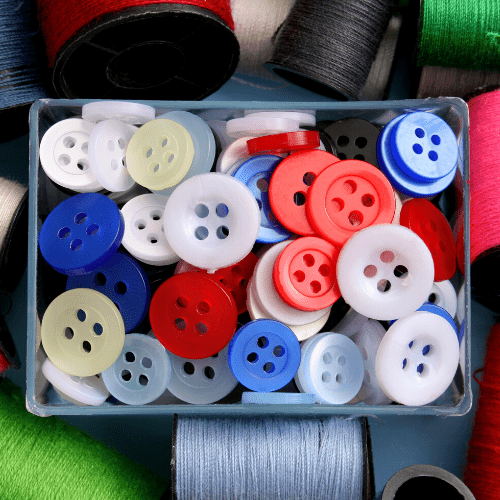 If you're searching for the most affordable buttons to groom your outfit, plastic buttons are meant for you! Plastic buttons are available in plenty of sizes, colors, and shapes, there is no full stop! You can get florals, flat, round, square, and rectangles in all solid, neutral, or derived colors! Some polyester buttons are produced with a fusion of red carbonate that adds a pearly look to make them more attractive and pleasing.
Polyester is a widely used plastic that stands out for being lightweight, decent-looking, and easy to use. While plastic buttons gain popularity for their versatility, attractive appearance, and affordability. I found poly buttons great for casual clothes because they are super easy to unbutton or interlock.
Wood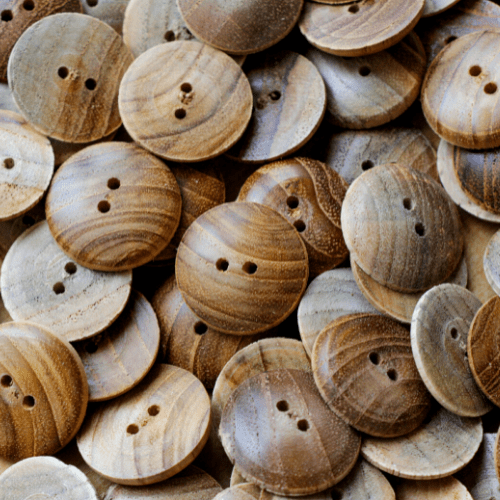 Wood buttons add a unique style to any garment or accessory as it comes in many sizes, shapes, and colors like small, large, round, flat, square, smooth, textures, striped and more. Some are available in natural wood, pine, or ash color while others are painted with blossom shades like pink, yellow, purple, and so on. I have discovered their multiple uses in decoration and art stuff, but they look beautiful or garments too.
Frequently Asked Questions (FAQs) About Types of Sewing Buttons
What are fabric-covered buttons called?
The fabric-covered buttons are usually called Dorset and were invented in 1622. The earliest ones were produced through sheep by-products, but with advancements, Dorset evolved and is now available in numerous shapes, sizes, and designs.
What are the best buttons made of?
I found metal buttons great for their toughness and durability, and they also look shiny and decent over any garment. However metallic ones are pricier than plastic buttons usually available on the market. In this article, I have discussed different types of buttons—check out all!
What were the first buttons made from?
The first buttons were invented in 2000 BCE by Indus Valley Civilization from a shell. Back then, ornaments were used to blossom the attire and were considered a status symbol. After years, the standards changed and now buttons have nothing to do with a person's wealth rank.
Conclusion
Regardless of where you're going and what you're wearing, buttons are a considerable element in every attire! Hence you need to know about them and how to sew on different types of buttons to build up your fashion sense and dress like a daydream. In this blog, I tried my best to deliver my knowledge on 12 different types of buttons by shape and material, so make sure to give a good read!